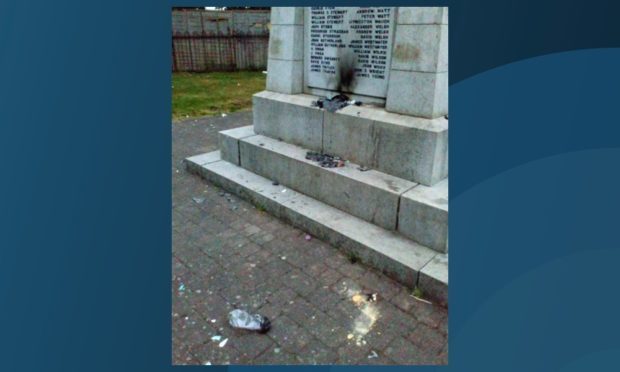 Two teenagers have been charged after a war memorial in Cowdenbeath was set on fire.
The incident was reported to the police on Sunday. Pictures show slight damage to  structure in the town's public park.
Cowdenbeath Conservative councillor Darren Watt has condemned the thoughtless act and is urging parents to make sure their children are aware of the history behind such monuments.
He said: "The residents of the town are absolutely furious and disgusted at the latest vandalism of the memorial.
"There has been a bout of antisocial behaviour in the area, particularly at derelict buildings and play parks, but to target a memorial for fallen war heroes is simply unacceptable.
"We are working with Fife Council, the police and residents of Cowdenbeath to try to curb this type of behaviour, including trying to make the area less secluded and hidden.
"As a parent myself, I know you can't be with your kids 24/7 especially if they're teenagers but I would hope that the parents are taking an interest in their kids' social lives.
"I hope they make them aware of the latest incident and try educate them about remembering those men and women who sacrificed their lives so they can enjoy the freedoms they do today."
The memorial was previously targeted in March this year when vandals drew on it with marker pens.
The Ancre Somme Association of Scotland also condemned the latest attack.
A spokesman for the group said: "War memorials are not political or religious symbols, they are part of who we are as a nation.
"Whoever did this needs to be educated. They also need to be exposed to Police Scotland as soon as possible.
"Our brave men and women are respected by the vast majority of tolerant and decent Scots."
A Police Scotland spokeswoman said: "Police in Fife have charged two 13-year-old boys in connection with vandalism to a War Memorial in Cowdenbeath, which was reported to officers on Sunday 3 June.
"A report will be submitted to the Children's Reporter."