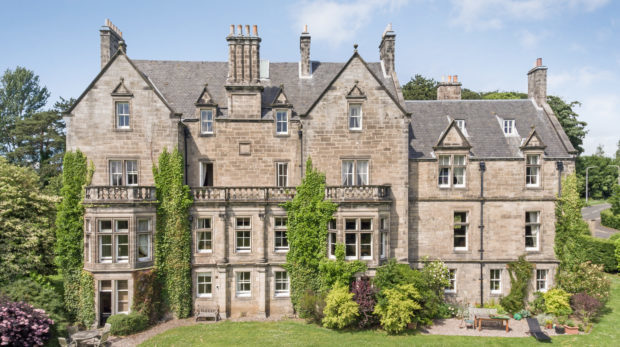 An apartment in an A-listed castle on an estate once owned by Robert the Bruce's sister has come on the open market for the first time.
Pitreavie Castle in Dunfermline and its surrounding estate is steeped in history, having previously been owned by Lady Christina Bruce, in the 14th century.
It was bought in 1608 for 10,000 merks Scottish by Henry Wardlaw of Balmule, Chamberlain to Queen Anne, wife of James VI of Scotland.
He started work on the u-shaped castle in 1615.
Only a few decades later it was the scene of bloody combat, the Battle of Pitreavie, between English and Scottish forces.
It was bought by mill owner Henry Beveridge in 1884 and modernised – he also added a narrow gauge railway to the grounds.
Around 50 years later it was then sold on to become a Ministry of Defence base – with the addition of a bunker deep underground –  and it was used to coordinate Royal Navy and RAF operations and was the HQ of the NATO North Atlantic area and Flag Officer Scotland and Northern Ireland.
Churchill is believed to have stayed there during the Second World War.
Closed in 1996, with the maritime rescue team moved to RAF Leuchars, the castle was converted into luxurious apartments.
The local couple, who do not wish to be named, at first rented out the ground and first floor apartment and later bought it in a private sale.
It's been their home for around 13 years, but now the family are moving on.
The apartment retains a wealth of unique features and incorporates what was once the last private chapel in Scotland, then the Flag Room, and now the family study.
Alongside the historic fireplace and wood panelling, it also boats contemporary features.
The lady of the house said: "We rented when we were first both working in Edinburgh.
"It was so unusual and set in such nice grounds.
"There is so much new build, and not so many period properties."
She said the apartment on the market for offers over £400,000 was "surprisingly easy to live in.
"Its history is really fascinating – because it was MoD a lot of people never knew it was here, it was never on maps. It's an exciting opportunity for somebody."