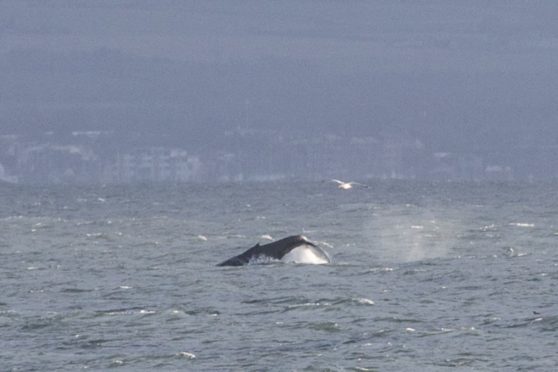 Whale watchers who enjoyed a series of displays by a humpback whale off the coast of Fife have spoken of their delight after it was spotted in Icelandic waters.
Paul Smith, of British Divers Marine Life Rescue, said he was 99.9% certain it was the same whale, identified by distinctive markings on its underside.
He said the appearance off Iceland would give experts valuable clues to the mammal's migration patterns — particularly if it decided to make a return visit to the Forth.
https://www.facebook.com/lyndsay.mcneill.58/videos/pcb.579702555746780/2075492136032648/?type=3&theater&ifg=1
Sonny, as the whale was nicknamed during its Fife forays in 2017 and January this year, was caught on camera breaching repeatedly off Dalvik.
Footage taken by Arctic Sea Tours, which runs whale watching trips in Iceland, shows the creature leaping out of the water to the delight of spectators on a nearby boat.
Mr Smith said Sonny appeared to be in good shape.
He said: "It's up there doing what it should be doing. This is part of its migration, whales go there to feed and go to warmer waters to breed.
"It's good to know it's up there and we can monitor its pattern and travel direction and it will be interesting to see if it returns next year.
"The Forth has become a real hot spot now for humpbacks. It is becoming a stop-off ground, tying in it with rising fishing stocks."
Sonny, whose gender has yet to be established, was one of at least two humpbacks spotted in the Forth early in 2017. It remained for around three months before moving on.
The same whale returned in January this year, and was one of between three and five reported by observers.
Visitors flocked to the coast between Kinghorn and Aberdour, armed with binoculars and cameras, hoping to catch a glimpse of the giant in action.
The sighting off the coast of Iceland comes after a dead minke whale was washed up on the beach at Lower Largo earlier this week.
It was removed by volunteers from British Divers Marine Life Rescue for testing by the Scottish Marine Animal Stranding Scheme to determine its cause of death.
The young whale, which was still dependent on its mother, was said to be dehydrated and starved.