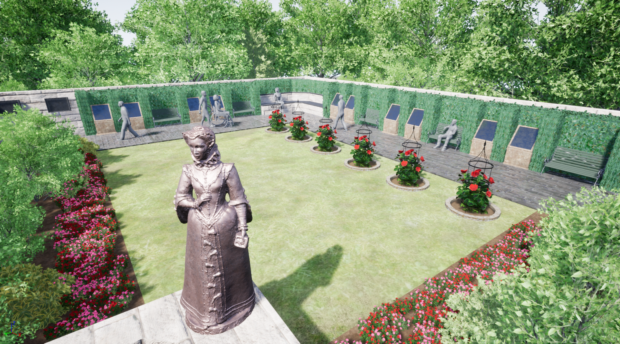 Ambitious plans to turn a neglected eyesore into a right royal St Andrews garden have won 100% community backing.
Poets' Neuk, the community group behind a project to turn the land once gifted to the town by Mary Queen of Scots into a public poetry garden, has had its community right to buy application confirmed by the Scottish Government.
The last stage of the process was a public poll by the Electoral Reform Services, which received an unusually high 100% vote of support from participants.
An eyesore for more than two decades, the land lies at the heart of the conservation area.
It will commemorate its history as the site of the medieval Greyfriars Monastery and celebrate its connection with the tragic queen.
Since then, it has passed through many hands, and the community right to buy will return it, almost five centuries later, to public ownership.
A special feature of the garden will be a display of poetry by and about Marie Stuart.
The Ministers' decision noted that the garden aims to: "create an attractive public amenity in the form of a well laid out and fully planted garden, with ample seating and access for disabled, offering a place of rest and interest to residents and visitors in an area of town where little such provision currently exists".
It will also provide educational material and displays on the historic significance of the site and its association with the important but now almost forgotten monastery and its relatively unknown link with the queen.
Facilities will be provided for children and adults with disabilities through a variety of methods.
Scented roses will be chosen from plants in cultivation during Marie Stuart's lifetime and a statue of the queen will be put in prime position.
Ministers added: "The garden is expected to be a resource for schools, providing a rich educational experience of life in medieval times and an important period in Scottish history."
Chairman of the Poets' Neuk Board Graham Wynd said: "Without the unstinting support of many town organisations and the overwhelming vote of the community, this project could not have taken off.
"We have many challenges ahead to bring the garden to fruition but we are confident that our efforts will meet a real need and provide an enduring asset for townspeople and visitors alike."