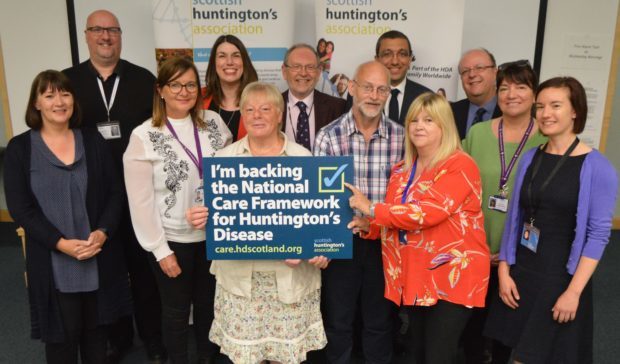 Groundbreaking work to help people with a degenerative neurological condition has been launched in Fife.
The region has become one of the first in the world to produce a local care framework for Huntington's Disease (HD), which can affect a person's movement, thinking processes and mental health.
The symptoms of the illness typically begin to develop between the ages of 30 and 50 and the condition is hereditary, meaning it can impact on families over generations.
NHS Fife has rolled out its own localised version of the internationally-acclaimed Scottish National Care Framework for HD, a move welcomed by patients and their families.
It has also been praised by health secretary Shona Robison, who said it had the potential to transform care for people with the condition.
The policy seeks to ensure those affected by the incurable, complex condition are given the best possible care, information or support regardless of where they live.
John Eden, chief executive of the Scottish Huntington's Association, said: "Scottish Huntington's Association owes an enormous debt of gratitude to everyone who participated in the development of the Fife framework.
"Today's launch is a huge vote of confidence in their work.
"Together they have added to a momentum that will lead this project to success the length and breadth of Scotland and, hopefully, beyond."
Consultant psychiatrist and Huntington's Disease lead clinician for NHS Fife, Dr Michael Armanyous, said the framework was designed to guide health and social care staff and empower families.
"It is an extremely comprehensive and easy to use tool that I am confident will help to further improve care and support provided to HD families over time," he said.
Nicky Connor, associate director of nursing with Fife Health and Social Care Partnership, said the region was fortunate to have a lead clinician for HD as well as HD specialists, youth workers and financial advisers, as part of a team to deliver the care and support required by patients and their families.
"In launching the framework we hope to kick start further improvements to our services and lead the way for providers throughout Scotland to follow," she said.
"I am delighted to formally launch the HD Care Framework for Fife."
The Fife Framework can be viewed within the Regional Frameworks section of the care.hdscotland.org site.