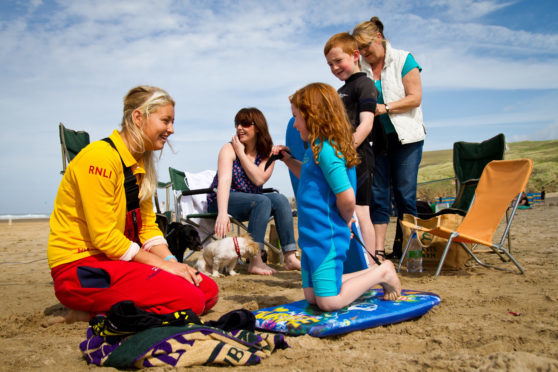 With temperatures soaring across the country this week, all of Scotland's RNLI lifeguarded beaches are now open and welcoming members of the public.
Only seven beaches across Scotland have lifeguards on patrol every day of the week between 10am and 6pm, the majority in Fife.
RNLI lifeguards are on hand to offer advice for staying safe while using the beaches and to assist should anybody find themselves in difficulty at Aberdour Silver Sands, Burntisland, Leven, St Andrews East and West Sands and Elie Harbour.
Coldingham Bay, which is just north of Eyemouth in the Borders, is the other Scottish beach which is regularly manned.
As Scotland gears up for the warmest day of the year so far on Wednesday, bathers are being urged to ensure they keep themselves safe by swimming between red and yellow flags which mark the lifeguard-patrolled zone, and to observe tide times and any notices about dangerous currents.
Giordano Ceccarelli, RNLI lifeguard supervisor, said: 'We're excited to welcome the public to the RNLI's lifeguard patrolled beaches in Scotland.
"The warmer weather always attracts more people keen to cool off in the water and we're happy to be able to help ensure people's safety.
"We urge people to stay safe by swimming between the red and yellow flags, and to remember that whilst the air temperature is higher the water does remain very cold throughout the year.
"If you get into trouble remember our advice to float on your back until cold water shock passes and then call for help.'
Last year, lifeguards attended a total of 207 incidents on Scottish beaches, ranging from minor first aid requests to rescuing people in distress in the water.
Lifeguards have been on patrol at Aberdour Silver Sands since the end of May and will be on duty until September 30.
However, the regular patrols at Burntisland, Leven, St Andrews East Sands, St Andrews West Sands and Elie Harbour only started this week and will run until August 27.