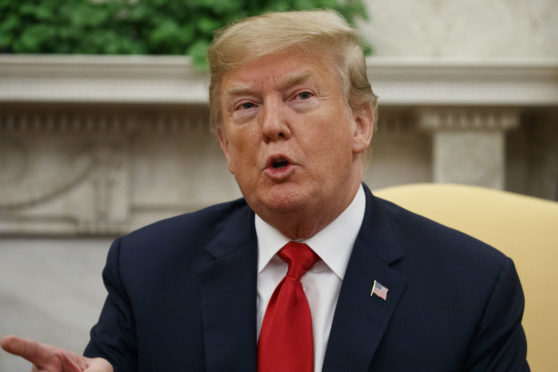 Angry exchanges rung through the Fife Council Chamber as councillors sent a strong message to US president Donald Trump that he is not welcome.
Members voted 44-11 in favour of a Labour/SNP administration motion condemning the Trump policy of separating migrant children from their families on the Mexican border and holding them in caged camps.
The motion said the actions violated human rights and would have consequences across the world, and called for Trump's invite to visit the UK in July to be withdrawn.
However, emotions ran high after Conservative councillors tabled an amendment accusing backers of the motion of "grandstanding" on international issues.
Tory councillor Linda Holt said the motion was "well meaning but utterly pointless" and the council should concentrate on matters closer to home.
She said: "This is Fife Council, not a student union. The people who elected us rightly expect us to attend to the matters in Fife for which we were elected."
Labour's Mary Lockhart said she was "appalled" by the move, adding: "This Tory amendment implies that Scotland is willing to be a whore to President Trump and that the only question is the price."
SNP co-leader David Alexander branded the Tory approach "disgraceful", saying: "If Trump comes to Scotland you will probably see the biggest demonstration ever."
His Labour co-leader David Ross said he was insulted by the amendment and insisted: "This isn't just about what's going on at the Mexican border, it's about the migrant crisis across the world. That clearly touches us in Fife and we play our part in providing safe, new homes for refugees and migrants.
"Trump's actions reverberate around the world and if the US adopt a policy of separating migrants from their families then it becomes far more likely it will be viewed as common practice in other countries.
"Donald Trump is not welcome in Fife, in Scotland or the UK as he pursues these inhumane actions."