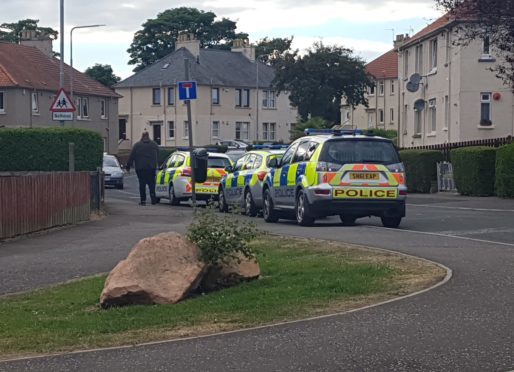 Five people have been charged with drug possession after police raided a flat in Kirkcaldy.
The intelligence-based operation saw a convoy of marked vehicles descend onto Beatty Crescent at around 5.30pm on Wednesday.
A team of specialist officers broke down the door as around a dozen uniformed police entered the property.
Shocked neighbours said they had never seen such a heavy police presence in the area.
The team included a drugs dog unit.
One woman, who had only lived in the area for six weeks, said: "I've not been here that long but it seems really quiet.
"We heard the banging on the door and came out for a look.
"It's good to see the police are tackling drug problems though and helping clean up the streets."
Police said a quantity of crack cocaine was recovered from the flat and five people were charged with possession.
PICTURES: Police warn of big rise in crack cocaine in Fife following drugs bust
The raid follows a crackdown on the hardcore drug which has been flooding the streets of Fife in recent months.
The powerful substance, which is made by "washing back"cocaine, has become more widely available, prompting fears of a future epidemic.
Users say it gives them a powerful, euphoric reaction which is more powerful than taking regular cocaine.
The short-lived high is extremely addictive, leaving people needing more and more of the drug to curb their cravings.
Many will then turn to crime to fund their habit.
Following the Beatty Crescent raid, a Police Scotland spokeswoman said:  "Acting on intelligence, police in Fife executed a search warrant at a house on Beatty Crescent in Kirkcaldy on Wednesday July 4.
"Crack cocaine, with an estimated street value of £30, was seized.
"Five males and females, aged 29 to 42, were charged in connection with drug possession and a report will be submitted to the procurator fiscal.
"Local officers continue to tackle drug offences as a priority under Operation Prospect and would urge anyone with information or concerns about drug crime to contact Police Scotland on 101, or report this anonymously to the independent charity Crimestoppers on 0800 555 111."