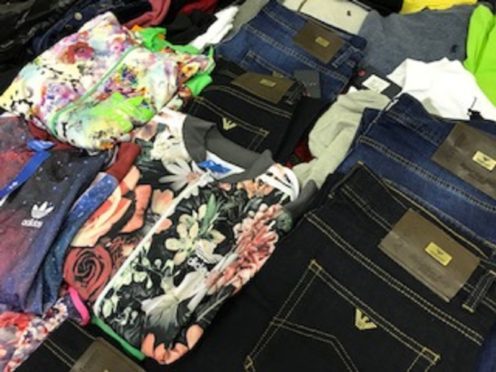 An innovative new project in Fife is putting previously seized counterfeit clothing and footwear to good use.
Fife Council Trading Standards has joined forces with the Milton Keynes-based Sports Traider charity which raises money by recycling fake products in prison workshops.
The items are either rebranded, shredded or cut into rags.
All of the money raised is then ploughed into schemes helping disabled and disadvantaged people in the UK gain employment, training and sporting opportunities.
It has also recently helped wounded and sick ex-military personnel through a sports rehabilitation programme.
Dawn Adamson, Fife Trading Standards service manager, said: "We are delighted to work with this excellent charity who are dealing with counterfeit goods in a way that is very productive on many levels.
"It is a welcome positive at a time when the National Crime Agency estimates that counterfeit goods are still costing the UK economy around £1.3 billion a year in lost profits and taxes.
"As always, I would urge the public to stay clear of fake products and remind them that profits made from counterfeit sales can go on to fund larger criminal operations, including organised crime and even terrorism.
"Our team will continue to do everything in its power to protect Fife consumers from these goods which are also often found to be unsafe."
Sports Traider sells its recycled clothing through a chain of charity sports shops and offers work experience to the disabled, young people, the long-term unemployed, disadvantaged groups, and ex-offenders.
Forty two ex-offenders have been given the opportunity and only two have ultimately re-offended.
Clothing is also distributed to low income families through homeless shelters, food banks and directly to deserving people on the streets.
Carol Haynes, logistics and operations director of Sports Traider, said: "We are thrilled to have recently extended our working relationships with local authorities to include councils up in Scotland.
"It is an arrangement that works well for all concerned and we obviously hope it continues in the future.
"We are grateful to receive the goods and in turn we can assure everyone that they will be dealt with in an extremely worthwhile manner."