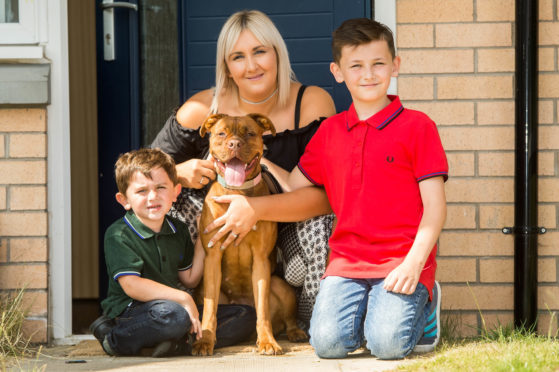 A Fife family has said thank you after a search for their pet dog involved scores of volunteers and the coastguard.
Boxer lab cross Nala went on the run for eight days and was eventually tracked down in Burntisland after an appeal to trace her went viral.
Now Nala is safely home, Thornton resident Clare Smith said: "So many people went looking.
"A lady who lived in Edinburgh got two car loads of people together.
"There were people we didn't even know out looking, and people with drones.
"The coastguard was out searching because somebody heard a cry from the rocks.
"It was amazing."
Nala, who is about one-year-old, was being walked in Burntisland by a relative when she scarpered.
Clare's son Kiernan, 9, had been given the puppy as a birthday present and he and little brother Flynn, 4, were distraught at her disappearance.
But dog-lovers from the surrounding area rallied round after the Facebook group Dana's Angels Fife shared a post about missing Nala.
"We wouldn't have got as big a response without them," said Clare.
"They contacted people in places we never even thought about, like Royal Mail and the rail network.
"They were always there reassuring us and telling us stories about other dogs who had been found to give us hope."
The search party failed to find any trace of Nala.
But she eventually turned up not far from where she disappeared.
"She was in Burntisland," said Clare.
"She was found literally a minute from where she went missing. She was really skinny. She had lost a lot of weight.
"I'm just so glad to get her back and get the weight on her again."
The coastguard confirmed two of its crews, from Kinghorn and Leven, and also the Kinghorn lifeboat assisted the search.
A spokesman for HM Coastguard said crews helped ensure the safety of those who were searching the coastline.
"We don't normally get involved in animal rescues but we do occasionally assist," he said.
"It's more from the point of view of preventing members of the public from putting themselves in danger.
"We would never put our coastguard rescue teams into a dangerous situation for an animal, but if the owner of that animal was going to put themselves in danger, sometimes the best way to prevent that, if we could safely do so, would be to look at rescuing the animal."