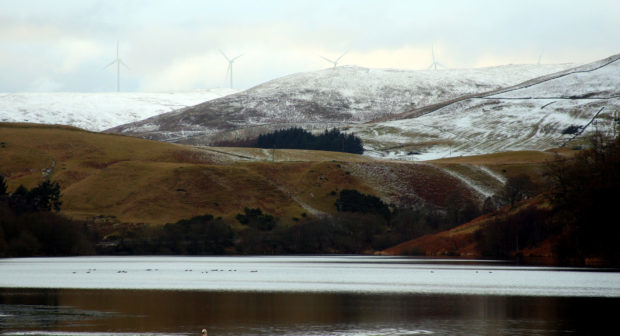 Fifers are being warned to use water wisely, to prevent the kingdom running dry.
The warning comes as supplies are being moved around between rivers and reservoirs to ensure an adequate supply of fresh drinking water across Fife.
As the heatwave shows no sign of abating, Scottish Water is taking contingency measures at its Glenfarg and Glendevon reservoirs, which serve the majority of Fife customers.
Water levels are lower than normal for this time of year at both the reservoirs in Perth and Kinross thanks to the prolonged dry weather.
Scottish Water is now closely monitoring water levels and moving water between them.
In consultation with the environmental watchdog, the Scottish Environment Protection Agency, measures are being taken to supplement and sustain supplies.
Water is being transferred to Glenfarg from the river Earn.
UK HEATWAVE: Summer heat due to peak once again in Tayside and Fife as weather endures
In turn, Scottish Water is using supplies from there to ensure there are sufficient resources at Glendevon, which has a £4 million transfer pipe which can transfer 25m litres of water a day – 10 Olympic pools – eastwards..
SEPA recently announced Scotland looks set to record its driest six-month period since 1984.
It means a double whammy for water supplies – less rainfall in the warmer spring and summer period has coupled with a rise in customer use.
In some areas of Scotland there has been a 30% increase in demand for water.
Customers in Fife are now being urged to curb their water consumption.
This includes taking shorter showers instead of baths, using fully loaded washing machines and dishwashers, using watering cans and not hose pipes in the gardens and switching off the tap while brushing teeth.
If everyone in Fife reduced the length of their shower time by two minutes just once this would save 5.7 million litres of water.
Scottish Water's chief operating officer Peter Farrer said: "While the recent rainfall is very welcome there has been a prolonged dry spell in Fife in the preceding weeks and water levels remain lower than would be expected at this time of year.
"Further sustained rainfall is needed to return water levels to normal levels."
He added the company will continue to monitor water levels.
Advice is available at www.scottishwater.co.uk/savewaterscotland or customer helpline on 0800 0778778.