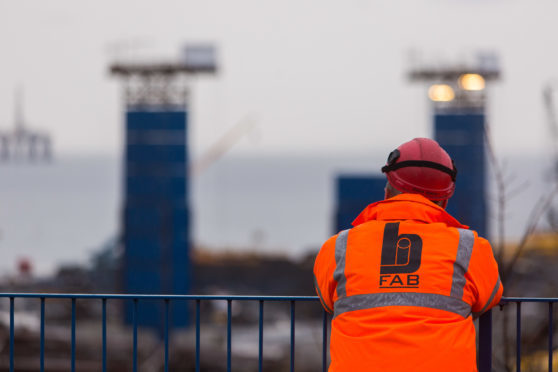 The new owners of crisis-hit BiFab have been urged to reveal their plans to bring work back to the yards Burntisland, Methil and Arnish.
The sites previously had a core workforce of 400 and a further 1,000 contractors, but Canadian firm DF Barnes – which took over BiFab in a rescue deal in April – laid off all but seven part-time workers.
Officials from GMB Scotland and Unite travelled to Canada for talks with senior managers at DF Barnes on Wednesday, following discussions with finance and economy secretary Derek Mackay the previous day, with the company insisting it had made a long-term commitment to all three Scottish sites.
Shadow Scottish secretary Lesley Laird, whose constituency includes Burntisland, has branded the recent redundancies as "deeply concerning" and expressed fears a reduced workforce will "significantly weaken" BiFab's chances of securing future contracts.
She said: "I can't simply sit back and be mollified with qualified statements of future success given the scale of redundancies which have hit BiFab in recent months.
"Workers in Burntisland, Methil and Arnish – who fought so bravely and determinedly to keep their jobs in those yards – also deserve better than that.
"They need to know the reasons why this 'rescue deal' failed to live up to their expectations and what realistic prospects lie in store for those yards in the near future.
"With no ready workforce on the payroll, I'm worried about BiFab's ability to compete successfully for contracts and I look forward to learning how DF Barnes and the Scottish Government propose to overcome that situation.
"These are strategic sites and key industry for Scotland and we need some clear answers – and a clear strategy."
Mrs Laird said that DF Barnes' takeover announcement sparked renewed hope BiFab's fortunes would turn around, adding that there were expectations among workers of a contract due to start in October.
However, neither of those have come to fruition, and Mrs Laird has written to the Scottish Government asking what support it will give DF Barnes in pursuing its plans.
A Scottish Government spokesman said: "We have made a long term investment in the company, however we do not participate in operational management decisions.
"It was clear at the point new ownership was secured that conditions would remain challenging for the yards and new contracts would have to be won to secure future work.
"The workforce played a major role in securing new investment for the yards and the prospect of securing future contracts which DF Barnes is working toward.
"We have confidence that everything possible is being done to secure new contracts and restore employment to previous levels."
In a statement last week, DF Barnes said it remained "confident of success" but acknowledged securing new contracts would require "laser-sharp focus".