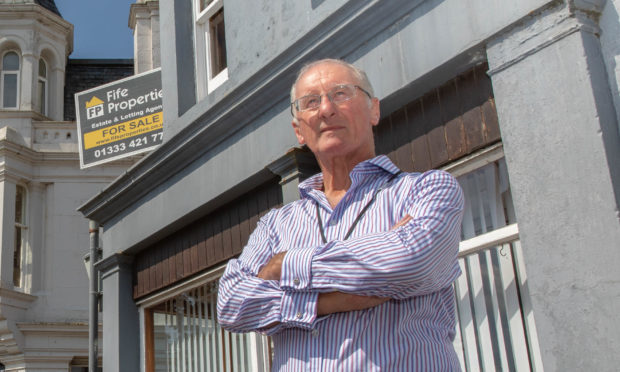 Calls to control the spread of second homes in Fife have been stepped up amid suggestions the region should regulate the use of letting companies like Airbnb.
The Kingdom has suffered more than most from the soaring number of short-term lets across Scotland which are eating into the nation's much-needed housing stock.
With the East Neuk particularly blighted – almost half the properties in Elie and Earlsferry are classed as second homes – support is growing for councils to be given greater powers to crack down on people misusing firms like Airbnb, which allows anyone to rent out a flat or house to tourists.
Councillor Bill Porteous, who lives in St Monans, pointed to the likes of London and Amsterdam, where Airbnb now have to ensure their hosts stick to local limits for short-term rentals, and believes similar regulation might work in Scotland.
"I'm not against second homes – the issue I have with second homes is that certain of them are vacant for a great part of the year, and as a result of that there's no involvement in the community, there no business for shops and there's no folk about," he said.
"When you talk about Elie and Earlsferry is that there are already a large number of existing second homes, but if you went back through history that's always been the case.
"People wanting out of the smoke and the soot of Edinburgh or Glasgow and coming to Fife – it's a historical thing.
"But I'm worried about the long-term viability of our villages, because we need to ensure affordable homes in the right areas for young couples and families working here.
"Various cities are now considering controls on the likes of Airbnb, and it is essentially an unregulated market.
"So I think there's maybe a need to look at some sort of regulation.
"Amsterdam is maybe a wee bit ahead of us at the moment, in terms of thinking: 'Maybe there's something we can do here'."
A search on Airbnb brings up a massive list of hundreds of properties in Fife available for holiday rental.
The East Neuk is one of the hardest hit areas and research done by the Scottish Greens revealed that a staggering 54% of homes in Earlsferry were second homes, with the figure as high as 32% in neighbouring Elie and around 20% in Crail.
Scottish Green MSP Andy Wightman is therefore pushing for new changes which would force those seeking to convert a property from a sole or main residence to either a short-term let or a holiday home to obtain full planning consent.
"In rural communities such as the East Neuk, local people and families are being forced into inappropriate temporary accommodation or forced to leave the area because profit-driven interests have restricted the housing supply," he said.
Pam Ewen, planning senior manager at Fife Council, said: "Fife Council widely promotes the region to tourists and we are working hard to ensure that Fife benefits from more people staying with us.
"At the same time, we are committed to ensuring that we maintain the heart of our villages and towns, and this involves supporting local businesses and communities.
"Currently there's no provision in planning legislation that allows restrictions to be brought in on second homes in Scotland.  We will be considering this issue when the next review of the Local Development Plan is undertaken. Nationally, future planning or other legislation may consider regulating short-term letting.
"From a finance perspective there's no difference in the council tax received from owners of second homes compared to occupiers – all owners of second homes pay 100% council tax.
"Any property classed as a holiday let must install a water meter because they have to pay water rates and must also organise for commercial waste collections."
The Scottish Government said it is "committed" to the creation of a new group which will look at issues around short-term lets, identify the existing powers local authorities have and whether further measures are required, and explore ways of piloting solutions.
An Airbnb spokesperson said: "The typical host on Airbnb in Scotland is earning around £3,600 per year, and the vast majority are sharing space in their primary home, for fewer than 4 nights per month- they are not typically businesses or professionals.
"Countless experts around the world agree that Airbnb has no significant impact on the housing market, and that housing concerns in Scotland are driven by house building not keeping pace with demand, driving prices up."
What is Airbnb?
Airbnb has grown into a global phenomenon over the past 10 years or so, and now boasts more than five million listings in 81,000 cities and 191 countries around the world.
Essentially a lodging reservation website, those behind Airbnb describe it as a "trusted community marketplace" where property owners can list their properties- which can be single rooms, a suite of rooms, apartments, moored yachts, houseboats, entire houses or even a castle – and travellers can search these properties by entering details about when and where they would like to travel.
It is free to create a listing and hosts – the people offering up the property for lease or short-term lodging – decide how much to change per night, per week or month.
Each listing allows hosts to promote properties through titles, descriptions, photographs and a user profile where potential guests can learn more about their prospective hosts.
After the reservation, hosts can co-ordinate meeting times and contact information with guests, and Airbnb acts as a broker which receives a percentage service fee from every booking.
And after the guest completes a stay, the host and guest have the option of leaving references for each other and reviews of their stay, which are posted publicly.