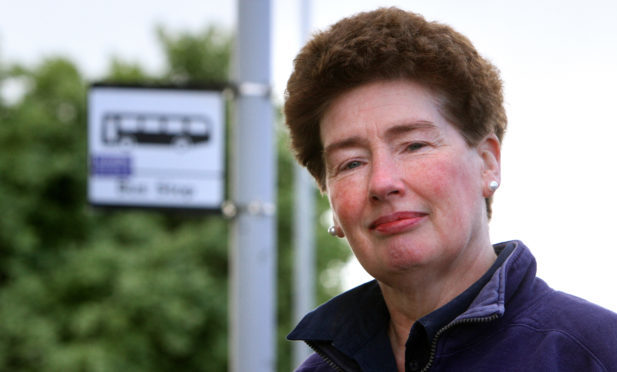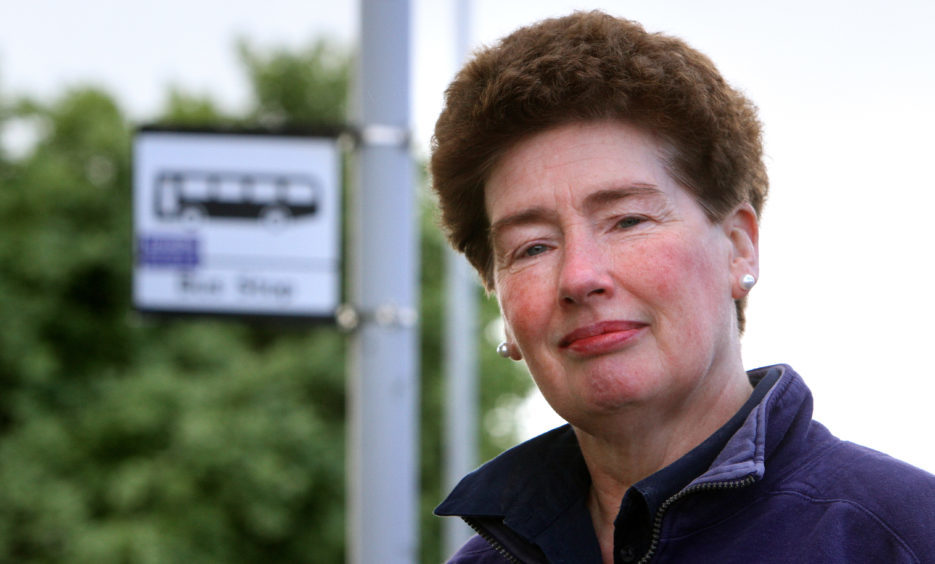 A Fife councillor who suggested Jewish newspapers criticising Labour's position on anti-Semitism may be working on behalf of the Israeli secret service has been suspended by the party.
Mary Lockhart has been widely criticised since The Courier revealed her comments at the weekend, made in a Facebook post which has since been deleted.
A Labour spokesperson said: "The Labour Party takes all complaints of anti-Semitism extremely seriously and we are committed to challenging and campaigning against it in all its forms.
"All complaints about anti-Semitism are fully investigated in line with our rules and procedures and any appropriate disciplinary action is taken."
The UK's three leading Jewish newspapers had published a joint front page message warning a Corbyn-led government would pose an "existential threat to Jewish life in this country".
Ms Lockhart posted about the move: "If the purpose is to generate opposition to anti-Semitism, it has backfired spectacularly.
"If it is to get rid of Jeremy Corbyn as Labour Leader, it is unlikely to succeed, and is a shameless piece of cynical opportunism.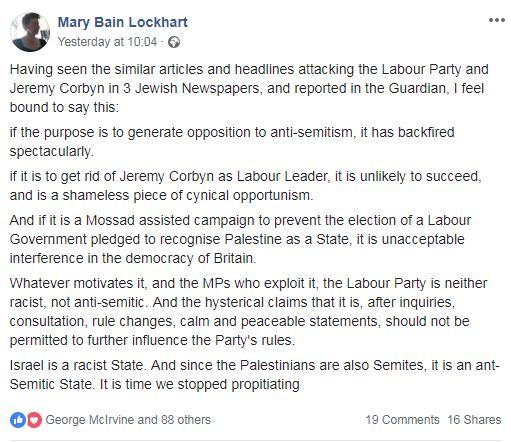 "And if it is a Mossad [the Israeli secret service] assisted campaign to prevent the election of a Labour Government pledged to recognise Palestine as a State, it is unacceptable interference in the democracy of Britain."
She went on to say the Labour Party is neither racist, nor anti-Semitic before adding: "Israel is a racist state."
Lochgelly, Cardenden and Benarty representative Ms Lockhart has not responded to any request for comment since making the post.
But in a Facebook statement, she said: "Following my suspension from the Labour Party to allow consideration of whether or not one of my Facebook posts breached the Labour Party's rules in respect of anti-Semitism, I have deleted the post.
"I will not be commenting further on this [or] any other matter until a judgement has been made. I remain a supporter of the Labour Party and of its current leadership."

Former Labour MP Thomas Docherty complained to the party about Ms Lockhart's remarks and criticised its leadership for the time it took to suspend his former colleague.
In 2016 Ms Lockhart apologised for any offence caused by a social media post which appeared to compare some Labour officials to Nazis.
She referred to a famous poem about persecution in the Third Reich when protesting against a decision to ban some Labour members from the UK leadership contest.