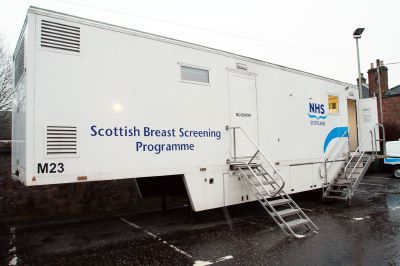 Cancer patients in Fife are more likely to be diagnosed in the later stages of the disease than those anywhere else in Scotland.
Almost half (48.5%) of cases of breast, bowel and lung cancer were picked up in stages three and four during 2016/17. The Scottish average was 43.5%.
The proportion of cases caught in the first stage in the NHS Fife area had also dropped to 25% from 29.5% the previous year and was at its lowest for five years.
Mid Scotland and Fife Labour MSP Claire Baker said it was "unacceptable" if later detection was down to a shortage of cash.
She said: "These figures indicate that much work still needs to be done to detect cancer early.
"With stage one detection at its lowest rate since 2011-12 and stage three and four detection amongst the highest in the country, questions have to be asked of the health board and the government to ensure NHS Fife has the resources in place to detect cancer early.
"If later detection is increasing as a result of budget pressures leading to longer waiting periods or inadequate screening processes then this is unacceptable and must be addressed.
"I'll be writing to NHS Fife to ask what action is being taken to ensure we can detect cancer at the earliest possible opportunity and give everyone the best chance to fight and beat it."
Patients have the greatest chance of survival if cancer is diagnosed at stage one.
By the time the disease has reached stage four the cancer has spread and the chance of survival is far lower.
Detection rates for breast, bowel and lung cancer are published by ISD Scotland to show trends in early detection.
In the NHS Tayside area, 41% of cases were diagnosed in stages three and four, with 25.2% detected in the first stage.
NHS Fife was asked by The Courier to outline action being taken to be ensure early diagnosis and the best chance of successful treatment but they failed to respond.
Breast cancer is the most common cancer among women while lung cancer is the most common among men.
Screening for breast cancer is offered across Scotland every three years to women aged 50 to 70.
Bowel cancer screening is offered every two years to those aged between 50 and 74.