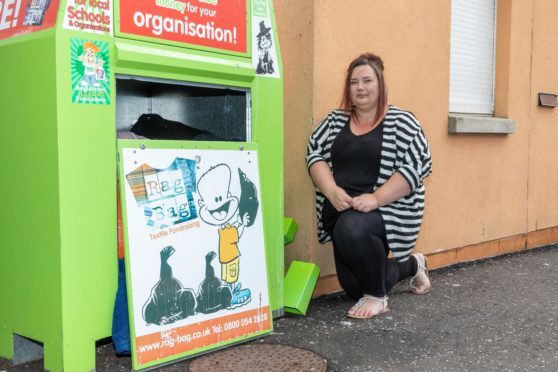 A Kirkcaldy family centre will lose vital funding after its textile collection bin was targeted by vandals and thieves.
The Cottage Family Centre in the town's Templehall area, which has been visited by television presenter Sandi Toksvig and has former Prime Minister Gordon Brown as its patron, has asked for its Rag Bag bin to be removed after it was repeatedly sabotaged.
After the latest incident on Tuesday afternoon, when items were taken from the charity bin on Tuesday afternoon, Police Scotland confirmed a 29 year old woman had been arrested and charged.
The centre's assistant manager Kelly Rodgers said: "It's really defeating. Recently the garden got vandalised and now this.
"Prior to that, paint has been hurled into the Rag Bag bin, and it gets used for general rubbish.
"There are generous people out there who want to donate to us and this ruins things."
Through the Rag Bag textile recycling scheme, the Cottage Family Centre makes around £30 to £40 each month to boost its activities supporting local families living in poverty.
Ms Rodgers said although the amount did not seem like much, every source of funding was vital to keeping the centre's services going.
"We took the decision to tell Rag Bag to collect the bin," she said.
"That's up to £480 a year we're going to lose.
"We fundraise for family fun days, trips during the summer holidays and things like that. We fundraise for children and families so they can have experiences that they can't afford."
Amid a climate of rising foodbank use as many families struggle to meet basic needs, the centre also runs a Christmas parcel appeal to make the festive season better for those who would otherwise go without. Last year, parcels were delivered to 951 children.
In May, vandals targeted a newly created fairy garden at the centre in Cawdor Crescent. 
CCTV footage showed two young males climb over a fence before making their way through the garden, damaging everything in sight.
It followed a wrecking spree last summer, when an estimated £2,000 of damage was done to the garden, which had been created by local dads.
Sandi Toksvig, who visited the centre while she was in town for the Adam Smith Festival of Ideas in March, stopped off at the project again over the weekend on her return to the kingdom for a 117 mile fundraising walk along Fife Coastal Path with her wife Debbie, Sarah Brown, Arabella Weir and author Kathy Lette.