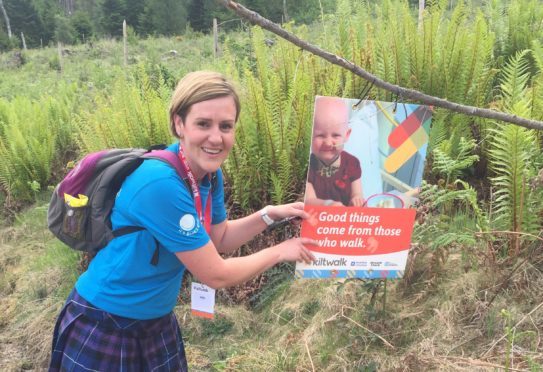 A Fife woman is carrying precious memories of her late child with her as she takes part in a mammoth charity challenge.
Shonagh Byrne is among 11 Scots taking on all four Mighty Stride Kiltwalks.
She has already completed two of the 26-mile long challenges – each one involving a mile for every month of her daughter Evie's life – and is gearing up for the next this weekend.
More than 16,000 heroes will tackle a Kiltwalk this year, taking on a series of distances to raise money for good causes.
However, Shonagh is one of a select band who are taking on the biggest challenge of all by pledging to try to complete all four Kiltwalks, covering just over 100 miles in the process.
The Dunfermline mum is a parent ambassador for the charity It's Good 2 Give and will be raising funds to repay it for the kindness it showed her when she needed it most.
"The charity offered incredible support to my daughter Evie, who passed away from cancer at 26 months old," she said.
Evie was diagnosed with a rare form of kidney cancer when medics found a stage 4 Wilms tumour in June 2012. She died in May 2013.
It's Good 2 Give offer practical support to young cancer patients and their families in Scotland, including snacks on the ward, ironing vouchers and personal support from health professionals.
Shonagh, whose family has raised funds for the last five years, said the fact each Kiltwalk is 26 miles resonated with her.
"I've decided to walk 26 miles for the 26 months Evie was here with us," she said.
"I am so determined to complete all four."
All of the money raised by walkers will receive a 40% boost, thanks to the support of the Hunter Foundation and funds from the recent Michelle Obama dinner.
Shonagh has already raised more than £3,000 herself.
Paul Cooney, Chief Executive of the Royal Bank of Scotland Kiltwalk said: "We are very proud to have 11 Kiltwalkers taking part in all four walks this year.
"It's a tremendous effort and will undoubtedly make a huge difference to their chosen charities."
At the end of April, 10,157 people took part in the world's biggest ever Kiltwalk from Glasgow to Loch Lomond.
Another 2,300 walkers did the 26-mile Aberdeen walk.
Up next is the Mighty Stride from St Andrews to Monifieth for the Dundee Kiltwalk on August 19, followed by the final leg in Edinburgh on September 16.
To sign up for the two remaining events this year, visit www.thekiltwalk.co.uk.