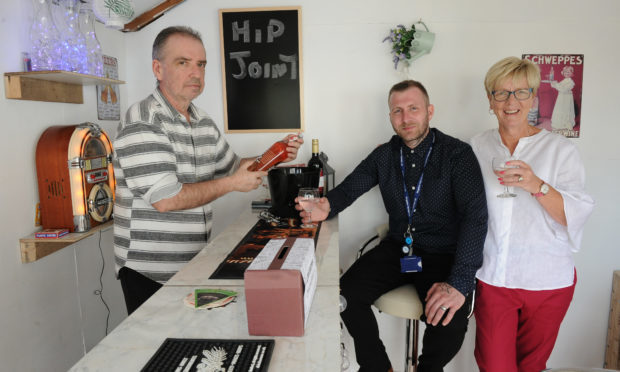 Residents in a Fife care home are being offered a livelier option than a cup of tea and a biscuit in the day room.
Bosses at Kingdom Homes' Willow House have transformed a summer house at the bottom of the garden into their very own pub.
And while residents at the Cellardyke venue might have some mobility problems, there's certainly nothing wrong with their funny bones.
For when Kingdom Homes asked them to suggest names for the new attraction, the unanimous response was to call it the Hip Joint.
The free bar had its grand opening during the Toll Road home's annual summer fete, when locals joined residents and staff for stalls, competitions and a barbecue.
While it has a bar and optics, no money will change hands as the drinks are all on the house.
Elaine Allan from Kingdom Homes said the Hip Joint was already proving popular.
"We just thought they would like to have their own little pub," she said.
"The idea is that this will give them a bit of independence."
For some residents, this might be the first time they've been able to visit a pub in years, she explained.
And now they can, while remaining safe in the grounds of the care home itself.
"Staff will be with them when they visit," Elaine added.
"We have been very lucky in that family and staff had helped and donated things for the pub.
"One of the local pubs even gave us some bits and pieces."
And when it came to the name, there was only one choice.
"The activity coordinator was having a wee chat with some of the residents and they just thought it was appropriate, as a lot of people have problems with their hips and because of the other meaning of being hip," laughed Elaine.
"We have 12 care homes in Fife and this is the first one to have an actual bar – we could expand it and do it in all of them," she added.
And for those who prefer a sweet treat to a single malt, Willow House already runs a very successful tuck shop.