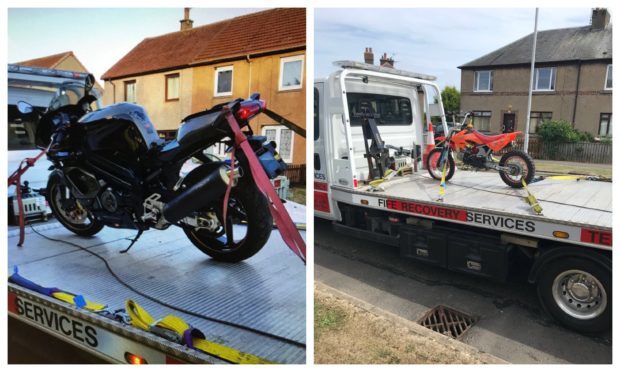 Levenmouth residents have been urged to help rid the area of illegal bikers amid fears it is only a matter of time before someone is killed.
People have been asked to come forward with photographic or video evidence of dangerous incidents involving quad and bike riders as police revealed they have arrested a dozen youngsters people for such activity this summer.
Local councillor Colin Davidson hopes the approach will assist officers in their efforts to catch those blighting neighbourhoods at all hours of the day and night.
Mr Davidson said he had received dozens of complaints from constituents concerned about unlicensed bikers speeding up roads, pavements, beaches and even golf courses in their pursuit of fun.
"Golfers are having to stand and watch people tearing up the fairways when they're trying to play a round," he said.
"People have had to jump out the way of them on Leven beach, they're in children's playparks and people have told me they've had to move to let bikes past on the pavement.
"In Kennoway, people feel they are being terrorised by these bikers.
"Some poor innocent bystander is going to end up getting killed if something isn't done to stop them."
The Labour councillor for Leven, Kennoway and Largo claimed a hard core of around 20 persistent young offenders was responsible for the mayhem.
Mr Davidson praised Levenmouth police for their proactive stance on the issue but said the public also had a part to play.
"We've got to get names, photographs and videos," he said.
"We already have some and police are putting the intelligence together but we need more.
"I'm working on this on a daily basis and it's taking up more of my time than anything else."
Inspector Tom Brown of Levenmouth police station said officers had arrested 13 people and seized 12 motorbikes since July 1.
"We have a dedicated action plan – Operation Reflector – to address these anti-social issues, which involves officers working with local communities and partners to ensure the safety of the public who live, work and visit the area," he said.
"Calls to the police are graded according to the risk and threat posed.
"Whilst we may not be able to attend immediately subject to demand, we will contact the complainer in due course."
Mr Brown urged anyone who witnesses anti-social activity involving motorcycles to call 101 or report it anonymously via Crimestoppers on 0800 555 111.