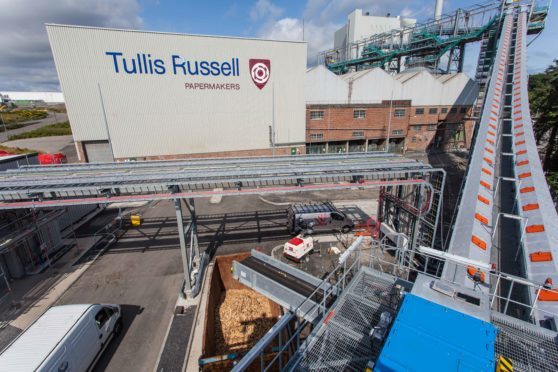 Markinch residents are demanding urgent action from Fife Council amid claims they are plagued by noise from a nearby biomass plant.
Locals insist the noise from the RWE plant at the former Tullis Russell papermill site represent a "flagrant breach" of planning conditions and is affecting their health.
They say documents submitted by RWE in a new planning application reveal sound levels persistently exceed the 45 decibel limit imposed – a claim denied by the company who attributed high readings to traffic noise.
Site manager Mark Picton said the plant had not been in operation when the readings were taken.
Nonetheless, members of the Markinch Residents' Noise Forum and environmental organisation Biofuelwatch have written a joint letter to all 75 Fife councillors urging them to ensure the planning condition is enforced.
They said operations at the plant should be suspended if necessary until guarantees are received that action will be taken.
The letter was prompted by a new planning application by RWE for a gas peaking plant – one that is generally only run when there is high demand for electricity.
Data contained in the application states the current average noise levels were 49.9 db at Cadham Road and 51.1 db at Prestonhall Avenue.
Markinch resident Lorna Ross said people living in Mount Frost, Cadham and Prestonhall had seen their quality of life affected by noise from the biomass plant since 2014.
She said previous complaints had been dismissed as wrong or unproven by both RWE and the council, despite one resident carrying out her own noise monitoring over two years.
"Fife Council must stop ignoring RWE's flagrant breaches of planning conditions and act to protect the local community," she said.
Almuth Ernsting from Biofuelwatch added: "Enforcing this planning condition is clearly in the public interest. Affected communities need action now."
Martin McGroarty, planning lead professional with Fife Council, said the peaking plant application was still live and consultations were ongoing with regulatory bodies regarding its suitability for the intended location.
Recommendations will be put to the central planning committee in due course.
"Public consultation on the peaking plant application has elicited a significant response from local residents and a number of concerns around noise and air quality issues have been raised and will be assessed and considered fully," said Mr McGroarty.
He added the current noise complaints would be investigated in parallel with the new application.
Site manager Mr Picton said regular noise assessments confirmed the plant had not exceeded noise limits.
"We are not in breach of our operational permit," he said.
"It is noted the background readings quoted include all local noise sources such as the A92 and in fact during the times when the background readings were recorded the plant was not in operation."