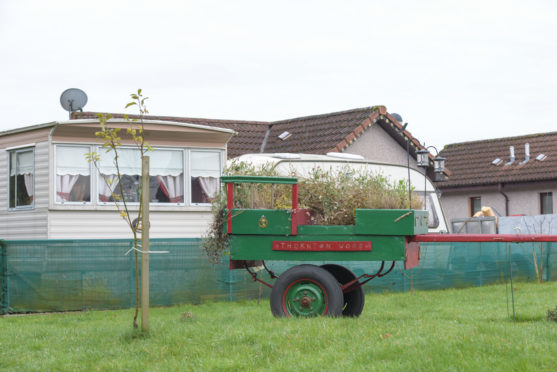 A sharp drop in the percentage of Gypsy Travellers satisfied with Fife Council-run sites has sparked a £2 million investment programme.
All of the amenity units at the sites which have the local authority as landlord – Tarvit Mill in Cupar, Heatherywood near Kirkcaldy and Thornton Wood near Kelty – are to be fully upgraded to a higher standard this year and next, it has been confirmed.
Around £800,000 is being spent per site and the work has been pencilled in by Fife Council's building services after a face-to-face survey of Gypsy Travellers suggested most of the families living there are not happy with their current situation.
Of those surveyed, 29% were satisfied with the landlord's management of their site, down from 70% two years ago and markedly below the Scottish average of more than 78%.
The issue was recently raised by Lib Dem Councillor Donald Lothian, who represents the Howe of Fife and Tay Coast ward, and he pressed the council on what steps are being taken to address the plummeting user satisfaction rating.
Councillor Judy Hamilton, convener of the community and housing services committee, said the improvement work – which has started at the sites – had been programmed in response to the concerns of travellers using them.
She said: "Housing services acknowledge that the annual Gypsy Traveller satisfaction survey carried out by the Knowledge Partnership consultancy has confirmed a significant dip in Fife's tenant satisfaction level.
"We have examined the results from the survey and can confirm that there is a high level of dissatisfaction amongst tenants with site conditions and lack of improvements to the three permanent sites."
Mrs Hamilton also confirmed that her committee has agreed to transfer the sites and services over to the housing revenue account instead of the General Fund, so the council will have more control in sustaining a suitable level of investment going forward.
She added: "We anticipate that with the site improvements, improvement to tenant participation, and other management improvements that the satisfaction level will increase over the next two years."
The council manages 20 pitches at Tarvit Mill, 18 at Heatherywood and 12 at Thornton Wood.
Each pitch has hardstanding for parking a caravan and another vehicle, and an amenity block with toilet, shower and bath, a kitchen area, hot and cold water, and storage.
There is also a mixture of self-contained caravans and chalet-style accommodation, and users of the site must pay rent and council tax.
The recent survey suggested that the reasons for the poor satisfaction levels included the condition of the pitches, a lack of accommodation, and the fact that site improvements had been few and far between.