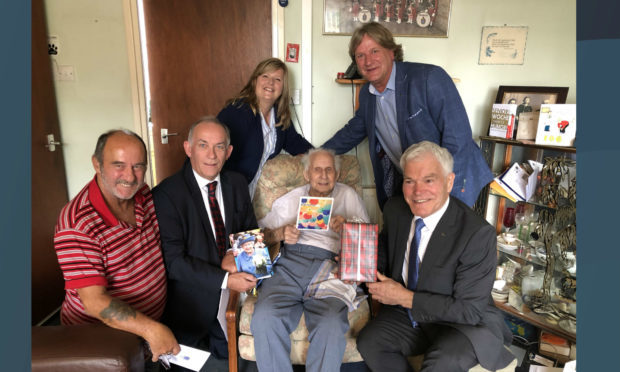 A Fife living legend has celebrated his 106th birthday at home in Kirkcaldy.
Jimmy Sinclair, the oldest surviving Desert Rat, was presented with a birthday card and personal message from First Minister Nicola Sturgeon by local MSP David Torrance.
The veteran battled Nazi forces during the Second World War and was awarded medals for his role in the siege of Tobruk, the battle of El Alamein, and assaults on Monte Cassino in Italy, but he refuses to wear them out of solidarity for those he lost.
He later served for two years with the Allied Control Commission in Berlin before returning to Scotland to work as a slater.
Despite being part of the effort to defeat Field Marshall Erwin Rommel's troops in the Egyptian desert in 1942, Mr Sinclair went on to strike up an unlikely friendship with the Rommel family and regularly keeps in touch with them.
The sprightly centenarian credits his longevity to a daily dram of Johnnie Walker whisky.
He previously said: "You need to have a sense of humour and I like to keep upbeat. I just take it a day at a time."
Mr Torrance said: "He's a gentleman and at 106 has lots of interesting stories to tell about his past.
"It's always a pleasure to listen to him and I'm really looking forward to seeing him at Christmas and also at his 107th birthday.
"It was a pleasure to deliver a card and personal message from Nicola Sturgeon to him."