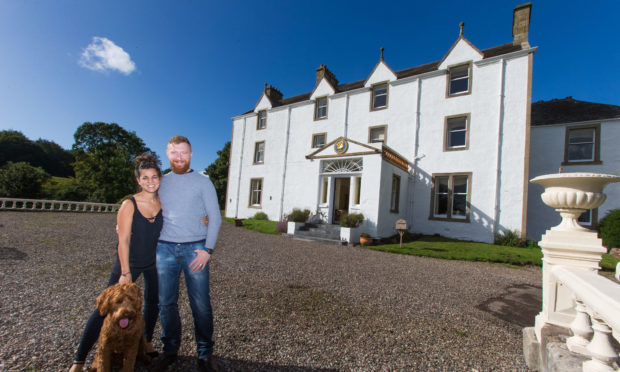 Construction of a new Fife wedding venue at the centre of a row with its neighbours has been stopped by a Scottish Government reporter.
Planning permission was refused for a new building in the grounds of Carphin House, near Luthrie, capable of hosting up to 200 guests.
House owners Ian and Ruth Macallan are in a legal dispute with the owners of nearby Lower Luthrie Farm over the use of the single-track access road to the C-listed building.
Their proposal for a purpose-built wedding venue in the grounds has also met with widespread opposition in the rural community, amid concerns about noise, traffic and distress to livestock.
Even without planning permission, the couple have already vowed to continue hosting weddings at the house in temporary teepees in the grounds and have applied for a certificate of lawfulness for up to 28 such events each year.
Dismissing their appeal for planning permission for the building, reporter Chris Norman said the economic benefits of the proposal, estimated at £10 million a year for Fife and 80 jobs, would not outweigh infrastructure and amenity issues and the conflict with farming activity.
The sole access to the house is a single track road known as The Wynd, belonging to the farm, and the Macallans had proposed creation of passing places, with 75% of guests transported by minibuses or small coaches.
In his report, Mr Norman said: "The use of the Wynd by small coaches and minibuses, a key part of the travel plan framework, would exacerbate and not offset the physical constraints of the Wynd and, in particular, the substandard passing place provision relied upon by the appellant."
He said bus and taxi movements at the same time as those of guest and staff cars would be "particularly difficult" in darkness as guests left.
He added: "I do not consider The Wynd as being suitable for the sole access to the proposed venue. Specifically, the very modest provision of 'passing points' is wholly unsuitable to facilitate the quantity and nature of the additional traffic generated."
Amenity of residents in the very quiet rural area around Carphin House could be reduced to an unacceptable degree, he said.
While he said agricultural operations were vulnerable to traffic arriving and departing on The Wynd, where gates are often closed for the passage of 100 beef cattle, Mr Norman said that animal welfare was not regulated by the planning system.
A claim has also been submitted for an award of expenses against Fife Council, which refused planning consent in April, but a decision has yet to be issued.
The Macallans previously stated that five larger weddings were booked for the remainder of the year and would be unaffected by the outcome of the appeal.