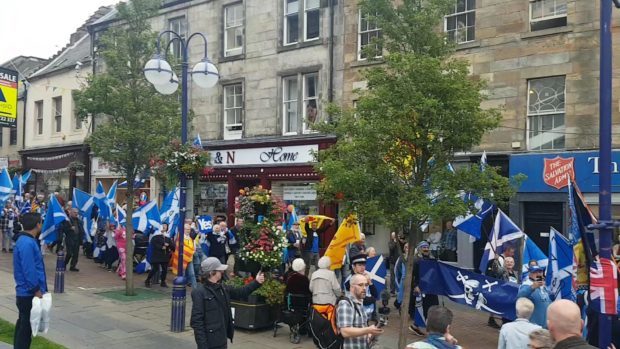 Hundreds of independence campaigners have marched through the streets of Dunfermline before holding a rally in the town's Pittencrieff Park.
Decked out with saltires and fancy dress costumes, members of the Yes movement began the parade at Viewfield Terrace where they were lead by dozens of bikers.
The lively group, singing iconic Scottish songs, made their way down Eastport and the High Street before finishing in Pittencrieff Park.
The rally commenced at 11.45am with an opening speech from Dunfermline and West Fife SNP MP Douglas Chapman before the festivities continued throughout Saturday afternoon.
More than a dozen pro-Union supporters were also present during the march, waving the Union Jack.
Speaking before the march, Martin Keatings, convener of Forward as One, said: "These events are the lifeblood of the campaign.
"They allow people from every walk of life to come together in one place and exchange thoughts and ideas and discuss the movement regardless of party affiliations.
"They give a boost to everyone in attendance and show yes supporters and undecided voters in local towns and communities that the Yes Movement is still very much alive.
"Dunfermline has a special place in the Yes Movements calendar because of the historical nature of the town, final resting place of a Scottish King it was also the last capital of Scotland where sovereignty truly lay in Scotland before the Union of Crowns in 1603.
"The route we walk is one of the oldest cities in Scotland and the park which we hold the rally portion of the event was gifted to the people by leading industrialist Andrew Carnegie, one of the fathers of modern economics."
The Forward as One march was the second annual parade and rally for Scottish independence to be held in Dunfermline following their 2017 event.
For more, see The Courier on Monday