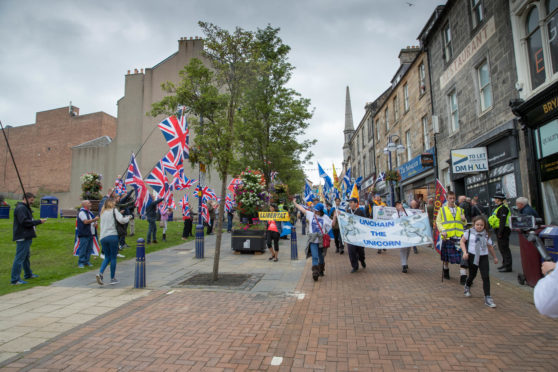 Hundreds of Scottish independence supporters paraded in the streets of Dunfermline during the second annual Forward as One rally.
Dozens of decorated cars and motorbikes noisily crawled through the town's city centre before holding a guard of honour at the entrance to Pittencrieff Park on Saturday.
Colourful marchers in an array of fancy dress sang and blew whistles during the short walk down the town's High Street before entering into the park.
Captain Jack Sparrow and a horse named Sport were some of the more unusual mascots present on the day.
Around 20 pro-Union supporters were also present at the march to "represent the silent majority".
The peaceful parade concluded with a rally in the park which began with a speech by MP Douglas Chapman.
Martin Keatings, convenor of Forward as One, said: "It's gone pretty successfully. We're not obsessed with numbers like other events.
"What we believe is if we get just one person, then it's a success — as simple as that because it's one that wasn't there the day before.
"It's a great day out and everybody enjoys themselves. The message is simple — independence is the only future for Scotland now if we want to get away from a Tory Brexit Britain.
"They're declaring themselves as sole arbiters of our fundamental human rights and that's not on. So the only way forward is independence."
Dunfermline and West Fife SNP MP Douglas Chapman, who gave the opening speech at the rally to cheers from the crowd, hailed the march a success.
He said: "It's been a very positive day. There's been a fantastic turnout here in Dunfermline and it's on the back of marches in Glasgow, Edinburgh and Dundee and Inverness.
"It's a sign that there's a true appetite for a second referendum and we need to move on to that as quickly as is practical because it'll be good for Scotland."
More than a dozen pro-Union campaigners also attended the parade to show their opposition against Scottish independence.
Alistair McConnachie, director of Force for Good, said: "We follow all the Scottish nationalist marches throughout Scotland.
"Our aim is to stand up for the silent majority of unionists who won the referendum and who don't want a second one. This was a very short march. Our message is one of unity over division, solidarity against separation."