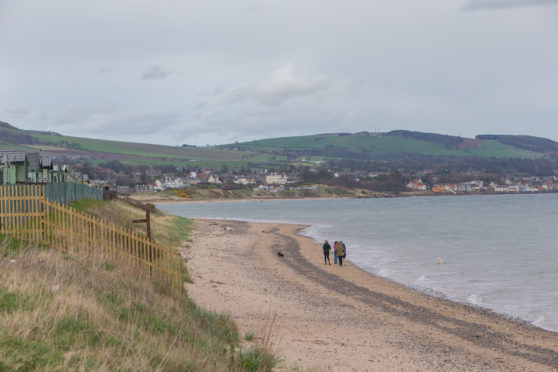 Locals have been warned to avoid an award-winning Fife beach following a sewage leak.
Leven beach, the holder of a Keep Scotland Beautiful beach award for quality, was affected by wastewater pollution when a power cut on Wednesday night caused a pump failure at the nearby waste water treatment works.
The River Leven was also affected.
Scottish Water has cleaned the stretch of water but the potential health risks are still being assessed by a specially-convened risk management group.
Comprising representatives of Scottish Water, Sepa, Fife Council , Health Protection Scotland, Food Standards Scotland and NHS Fife, the group is investigating any environmental impacts in the wake of the incident.
People have been urged not to touch the affected river and sea water and not to let pets exercise in the area.
Nothing should be removed from the area, seafood should not be harvested and the public has been warned that scrupulous hand hygiene after visiting the river mouth is "vitally important".
A community litter pick on the beach organised by local MSP Jenny Gilruth on Friday morning was cancelled.
Dona Milne, NHS Fife director of public health, said: "We appreciate the inconvenience this advice may cause people and businesses in the affected area, but at all times our priority has to be the protection of the environment and public health.
"The leak has now been stopped and further sampling will take place.
"The Risk Management Group is continuing to monitor the situation."
A spokesperson for the Scottish Environmental Protection Agency (SEPA) said: "SEPA is working with members of the multi-agency Risk Management Group following a power failure at Levenmouth Waste Water Treatment Works on Wednesday night.
"Scottish Water have advised that they have completed a clean-up operation.
"SEPA is carrying out an investigation into this incident to assess the impact on the water environment.
"We have updated our bathing water guidance for Leven bathing water to advise against bathing or paddling for the next two to three days."