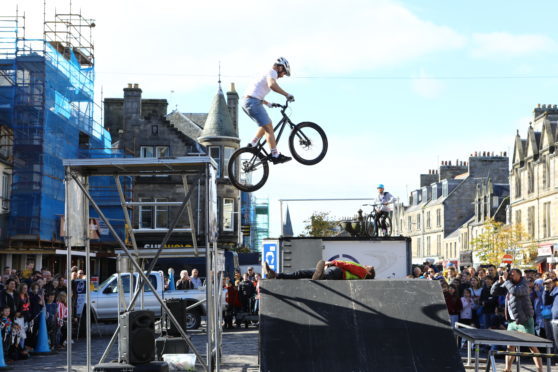 A feasibility study has been launched into banning cars from the centre of St Andrews.
The move follows the historic town participating in World Car Free Day for the first time this weekend.
Market Street, one of the main thoroughfares in the university town, was closed off to motor vehicles for most of the working day on Saturday for the global initiative, aimed at encouraging cleaner transport.
Following the largely positive reception, a study will be carried out to gauge views from residents and town centre users on the possibility of making the shutdown permanent.
Local councillor Brian Thomson has arranged for the Playfair Consultancy – which is made up of students from the University of St Andrews – to examine the issue.
He said: "I'm personally very keen to see pedestrianisation introduced in parts of St Andrews town centre – principally in Market Street – in order to work towards creating a walking town centre, which would be free from congestion and pollution, and bring about health benefits.
"To progress towards this, events such as the Car Free Day can really help to generate the right atmosphere in which to test whether pedestrianisation can work.
"Perhaps more importantly, it will encourage people to give their cars up for a day, so they can see how easy and enjoyable walking – or cycling – to get around can be."
Event organisers included Fife Council and the Transition University of St Andrews, as well as the Business Improvement District (BID) St Andrews, while lead organisers, the St Andrews Space for Cycling (SASC) group, hope to one day see their town become the most cycle friendly in Scotland.
SASC chair Tony Waterston said: "This is a taster of what life could be like when we live in a truly walkable city."
However, not all are in favour of pedestrianisation. Eric Milne, managing director of Fisher and Donaldson, said his shop in Church Street lost many of its regular customers because they couldn't get near the premises.
"Pedestrianisation only works where there is an adequate supply of easily accessible parking within two minutes of the shops or where you have lovely weather all the time," he said.
"If the weather was cold and wet today as it often is this would be an unmitigated disaster.
"You only need to look at what pedestrianisation of Kirkcaldy, Dunfermline, to see what happens when you pedestrianisation the main shopping streets.
"St Andrews be aware: Make it hard for the customers to get to your shops and watch the shops disappear."