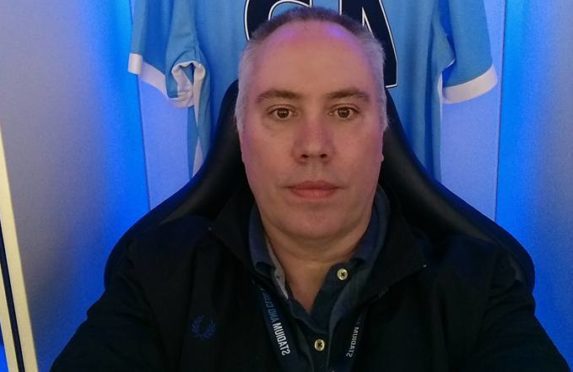 Parents of youngsters at a Fife swimming club have expressed shock and anger after a head coach was suddenly suspended for 18 months.
Ian Lewis, 51, has been formally sanctioned by Scottish Swimming following an investigation into accusations of "inappropriate communications" with a small number of swimmers at the FINS Swimming Club in Kirkcaldy.
While Mr Lewis denies any wrongdoing, parents and carers of children with the popular club have been critical of its handling of the situation after only learning of the allegations recently.
Parents received an email from the club last month asking them to provide a written statement detailing the "many positive experiences" they and their children have had with Mr Lewis over the years.
That has been superceded by a further communication which appears to backtrack on that call for support.
Michael Lee, FINS Club secretary, has written to all parents and carers: "Scottish Swimming have confirmed that Ian has been suspended following an investigation into allegations of inappropriate communications with a small number of swimmers.
"The committee understands it can be difficult to raise concerns and would like to reassure members that if they have any concerns they should feel confident in raising these directly with the club child protection officer.
"All concerns will be listened to and investigated in a confidential manner.
"Finally, the committee would like to confirm that it continues to focus on putting in place coaching support to allow the swimmers to continue to progress.
After Mr Lewis was placed on a precautionary suspension in June, The Courier understands he was made aware of rumours circulating within the club and between swimmers, coaches and officials of other clubs¸and told Mr Lewis he should formally advise the club's committee so it could advise parents and carers at that time.
It is understood Mr Lewis said he did not want the committee to be formally advised at that time in the hope the matter would be resolved.
An initial last month called on parents and carers to provide character references for Mr Lewis in the event of an appeal against his suspension.
Mr Lee wrote: "I trust you will all appreciate and agree with me when I say that if Ian was to be absent from the club for that length of time it would have a devastating and potentially irreversible effect on the swimmers, other coaches and the structure of the club as a whole.
"It would not be unfair of me to suggest that an extended absence of that length of time would potentially threaten the very existence of our club, that is soon to reach its 40th anniversary year.
"We absolutely must take this opportunity to leave Scottish Swimming in no doubt as to the feeling amongst the club of the outstanding contribution that he has made to the club over a great number of years, the positive effect that he has had on our children's swimming careers, and the trust that we all place in him."
One parent, who has taken her children out of the club in light of the allegations, said: "I'm now left worried and wondering what could have happened to lead to an 18-month ban, and also do I want my children to be around someone who has been banned?
"To ask parents to be character witnesses without knowing what the allegations were is a joke and Scottish Swimming have dealt with this terribly."
Mr Lewis is considering an appeal against the determination on a number of separate grounds, but will be unable to take part in any coaching or other work connected with the club until any appeal is heard or his suspension period is served. Both the club and Scottish Swimming have declined to comment further.