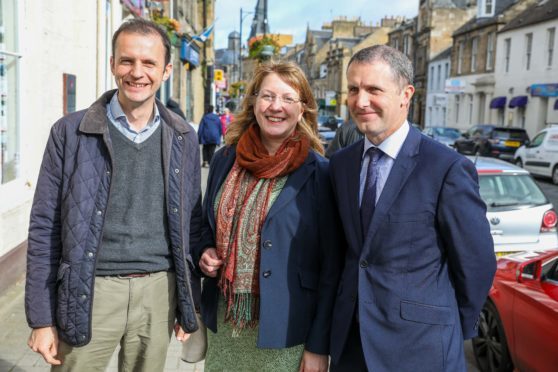 Cupar is embracing the digital age in a new pilot scheme which could show the way forward for other small towns across Scotland.
As the country's first Digital Improvement District, the town centre will benefit from the introduction of free public access WiFi.
A Cupar website will be created and residents will be given support in skills including the use of social media.
The scheme was launched by transport, infrastructure and connectivity secretary Michael Matheson on a visit to the town.
He said it marked another exciting step towards achieving the Scottish Government's vision for improved connectivity across the country.
"The pilot enables Cupar to showcase its digital capabilities, ultimately demonstrating the need for smart towns as well as smart cities," said Mr Matheson.
He said Cupar residents would soon be able to enjoy "exemplar" WiFi, while some businesses would be able to begin engaging with social media advertising.
Mr Matheson said the town would also be able to test the capabilities of technology to tackle issues such as addressing traffic flows, lighting, air quality, flooding, and better business intelligence.
"We will continue to make the investment in our connectivity that is required to support economic growth and boost international competitiveness," he added
The pilot is being led by a partnership involving Fife Council, Destination Digital, Scotland's Towns Partnership and ABCD (Association of Businesses in Cupar and District).
North East Fife SNP MP Stephen Gethins said he was delighted that Cupar had been chosen to test the project and praised Alison Strachan, chairwoman of ABCD and owner of Maisie and Mac, for all her hard work in driving it forward.
"It was good to hear more about the Digital Improvement District project, which aims to improve the town centre enabling businesses, organisations and the community to work more closely together, enhance connectivity including free public realm WiFi in the town centre, and support the local economy via a range of initiatives including the new #CuparNow social media platforms and information sharing," added Mr Gethins.