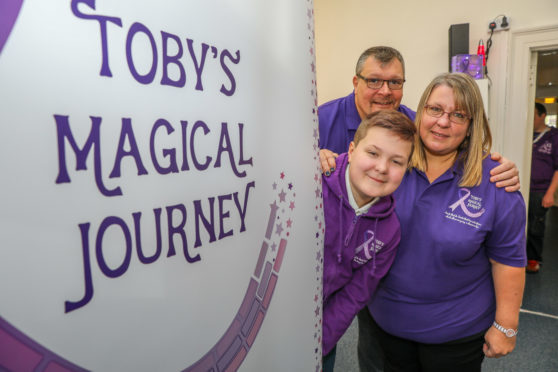 A brave schoolboy who beat cancer has achieved his dream of opening Fife's first drop-in centre for children battling the disease.
Toby Etheridge's charity officially opened its base in his home town of Cupar, where it will offer support to families of youngsters affected by cancer.
Since being diagnosed with acute lymphoblastic leukaemia almost four years ago 12-year-old Toby has tirelessly raised money to support other young patients.
He officially became cancer-free in April following three years of daily chemotherapy but continues running the charity Toby's Magical Journey with his parents Alison and Richie.
The family opened their new premises at 52 Crossgate on Saturday. They will share the base with Caring for Cupar.
Alison said: "This is very exciting for Toby. It is something he has always wanted to do. It will be Fife's first childhood cancer drop-in centre."
Toby has led the charity's fundraising, coming up with event ideas including his magical ball and annual Tay Road Bridge walk, which his parents and a team of more than 20 volunteers then put into action.
The group's latest venture will provide a welcome for those seeking advice about childhood cancer as well as a hub for the charity, which aims to raise awareness of childhood cancer and the gold ribbon campaign.
It will also host events, such as a Halloween party, storytelling sessions and arts and crafts gatherings
Alison said: "We have space where people can come, whether they are a family going through cancer or members of the general public who want to find out more.
"The coffee pot is always on.
"We have been through it, we understand and we are there to talk.
"We have been exceptionally lucky and fortunate with Toby but we understand that's not like that for every family."
The centre will initially be open from Monday to Saturday between  9am and 5pm.