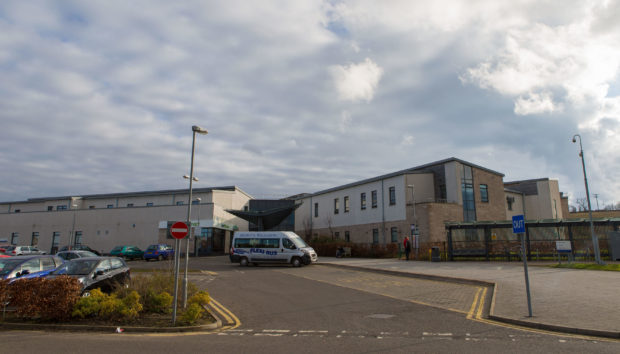 Fife's health and social care partnership has insisted it is listening to the thousands of protesters campaigning against the potential closure of St Andrews out-of-hours GP service.
Board chairman Simon Little said members would take all views into account when deciding on the future of the service in December.
He was speaking as campaigners handed over a petition containing more than 6,000 signatures urging the partnership to keep evening and weekend GPs at St Andrews Hospital.
The board has proposed centralising out-of-hours doctors in either Kirkcaldy and Dunfermline or Kirkcaldy-only amid staff shortages.
This would mean closing the service at Glenrothes Hospital as well as at St Andrews.
The people of north east Fife have rallied against the move, with those in the rural east neuk expressing particular concern about the distance to Kirkcaldy and the lack of public transport.
Heather Aird from Crail Community Council said local people had been treated unfairly.
"The east neuk has the highest number of over-85s in Scotland and that raises quite an issue," she said.
"We are an hour from Kirkcaldy, there are no buses and it would cost £70 or £80 for a taxi for someone without access to a car.
"The partnership talks about having safe, local care. We don't see how this is safe and it definitely isn't local."
East neuk Liberal Democrat councillor Bill Porteous described the proposal as very silly.
"You can't change the geography and Kirkcaldy or Dunfermline are just too far to travel if you are ill or have children who are ill," he said.
Liberal Democrat MSP Willie Rennie, who organised the online petition against the move, praised those who rallied behind it and locals who came up with their own postcard campaign.
"We have a potential solution here – we have people in north east Fife who want the service kept local and we have GPs prepared to step in and provide the service," he said.
"All we need is for the health and social care partnership to think imaginatively and agree."
Mr Little said the consultation process had been constructive.
"Many views have come out of that and, as we pledged at the start of the process, we will listen to these views and try to come up with the best solution for Fife," he said.
He said the consultation was a "genuine process" but added: "This is not an easy problem to solve because we have a real issue with staffing."