If December 25 seems too long to wait for turkey and all the trimmings, a Fife chippy is selling Christmas dinner all month, albeit fried in batter.
April's Plaice in Buckhaven has been open for only a few weeks and is hoping customers will find the deep fried festive feast is crisp and even.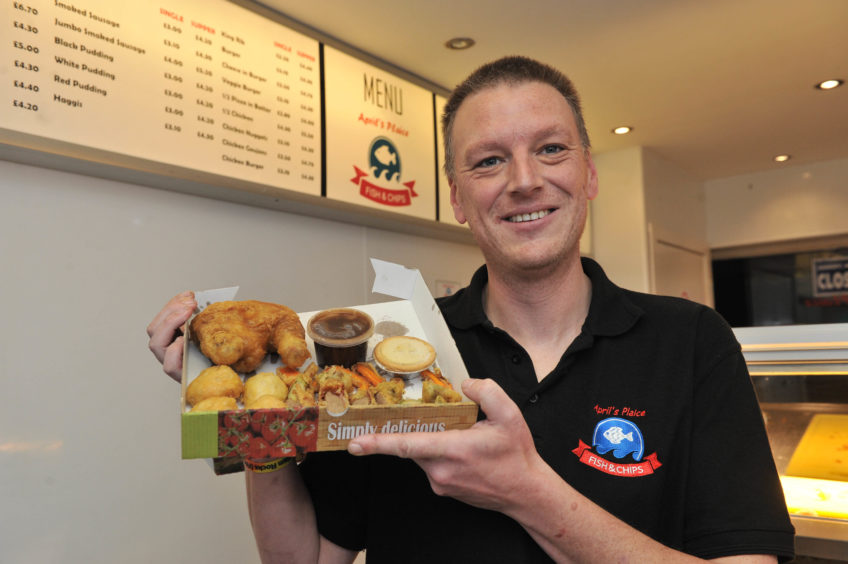 For the sum of £8, hungry customers can buy deep fried turkey or chicken leg with deep fried roast potatoes, Brussels sprouts, carrots and pigs-in-blankets, and a mince pie.
The only item on the promotion not to be plunged into boiling oil is the mince pie – and  the gravy, for obvious reasons.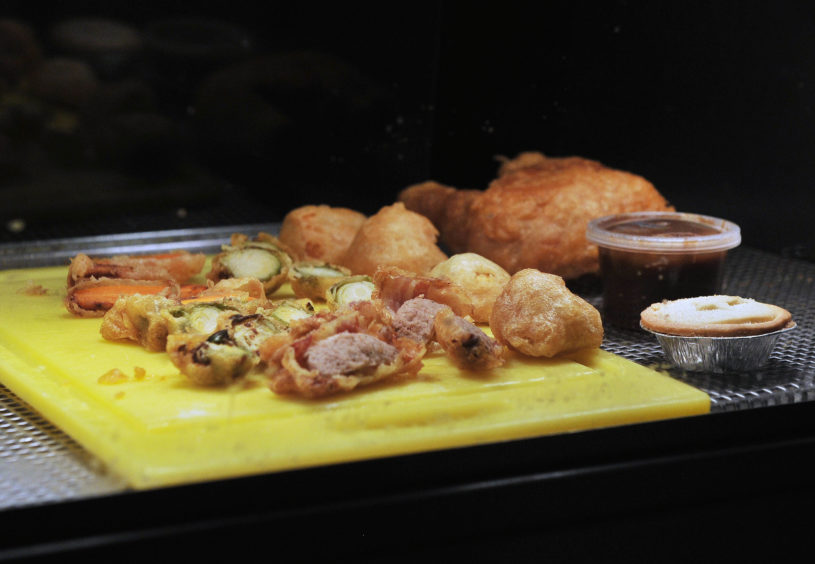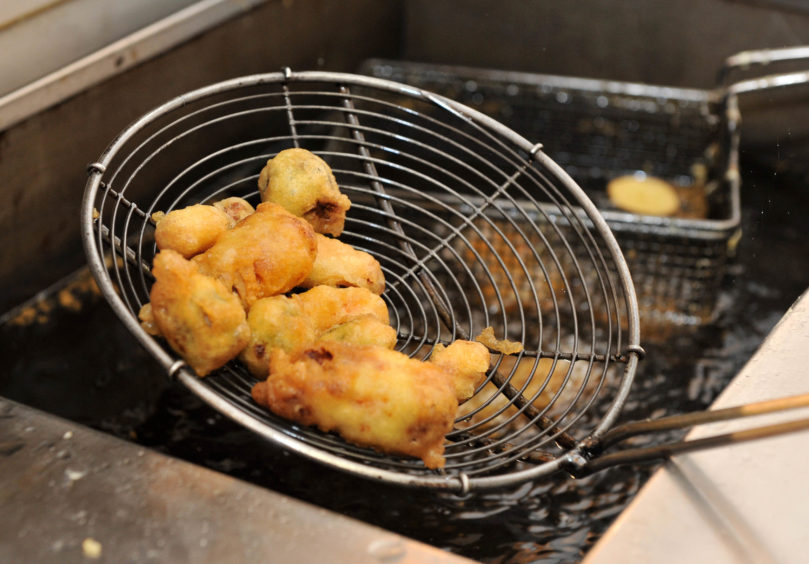 Chip shop owner James Ellinsworth, 34, said he attempted to deep fry a mince pie, with poor results.
"The mince pie is not in batter," he said.
"It just exploded in the pan. I did try it, but it just went wrong."
Battered mince pies have been achieved before. Marshall's Fish Bar in Collumpton, Devon, which also does fried Christmas dinners, is among the few who have perfected the treat encased in batter.
James, who set up the business in College Street at the end of October, said he came across the idea "by accident" after fried potato ends reminded him of roasties.
He added: "I was making potato fritters, and you can't use the end of the potato to make a fritter. The end of the potato is too round for fritters.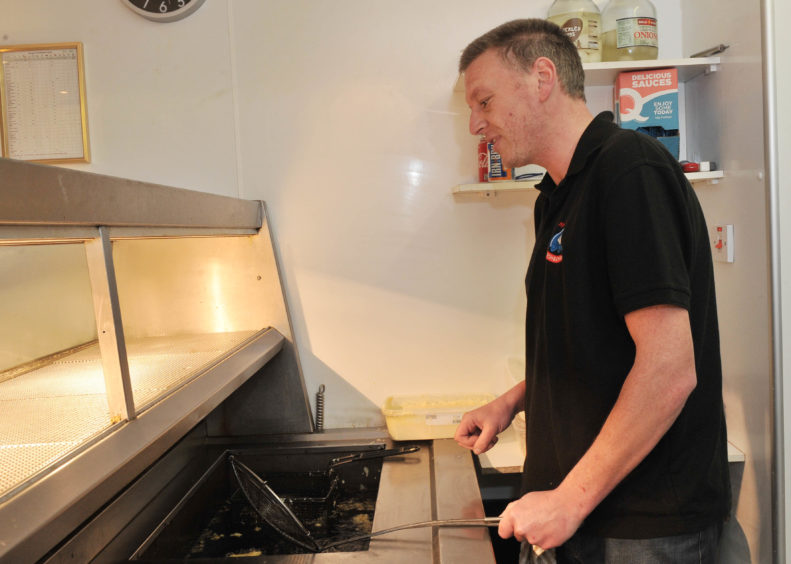 "I thought, it's a new business looking for a promotion, so why not try Christmas dinner?"
Since being launched on Saturday, the decadent dish has been popular with customers.
But James is not keen to partake himself.
"Absolutely not. When you're deep frying food all day, the last thing you want is anything that is deep fried," he said.
Chip shops the length of the country have been getting into the Christmas spirit with artery-clogging innovations.
Cafe Piccante in Edinburgh has piled on the calories by deep frying Christmas pudding.
And a chip shop in Nottingham has taken pigs-in-blankets to the next level by making them a foot long and deep-frying them. Instead of the more traditional chipolatas, the takeaway uses huge bangers wrapped in bacon.
Taste test: Iain Muirhead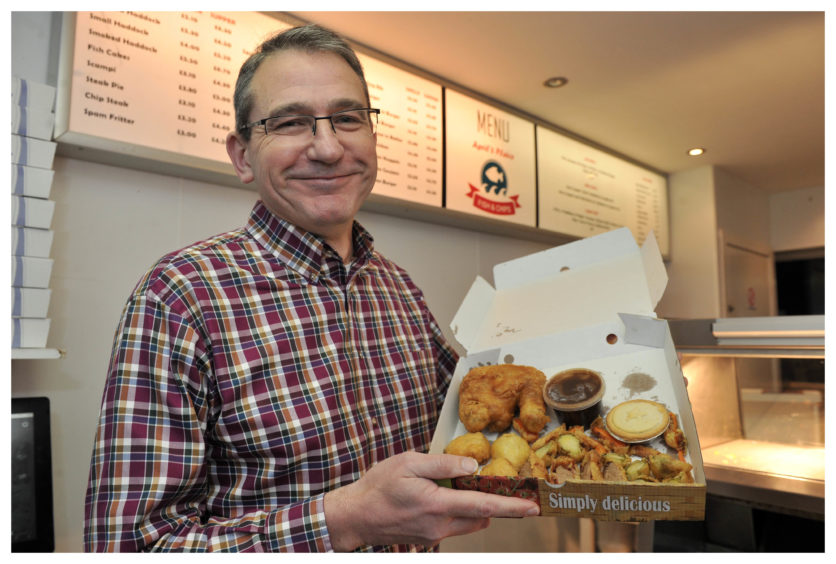 I must admit to being a devotee of the deep fryer.
Scotland's penchant for greasy gastronomy has tainted our culinary reputation worldwide. The idea of deep-frying a pizza, for example, would horrify even the most adventurous gourmand.
Yet there's something deeply satisfying about food so fat-saturated that it squeaks when you bite into it, so how could I resist a Christmas dinner from the chippy?
What the whole experience lacked in glamour, it more than made up for in guilty pleasure, and I was genuinely surprised at how well most of it worked.
Deep fried Brussels sprouts? Incredibly, they're delicious.
In a posh restaurant, they would be listed as tempura, no doubt, and the sprouts, carrots and roast potatoes were crunchy on the outside, steaming, soft and flavourful on the inside.
The deep-fried chicken was your standard chippie fare, taking on that crunchy texture – rather like crispy duck from the Chinese restaurant.
But the crowning glory was the deep-fried pigs in blankets. Succulent and savoury, I had to compete with my nine-year-old boy to finish them off.
In all, the meal reinforced what we Scots know in our cholesterol-clogged hearts: everything's better in batter.