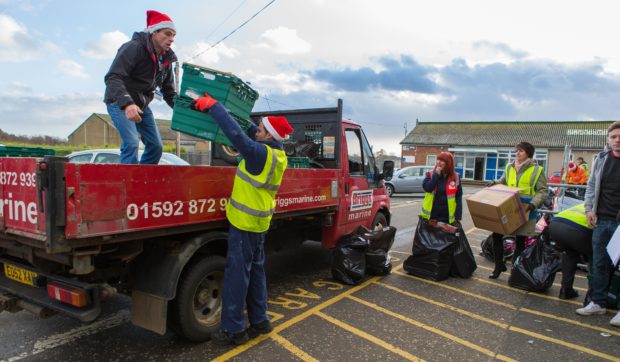 Thieves have stolen more than £800 raised to buy Christmas dinner for vulnerable children.
Every penny raised by hard-pressed locals for an annual appeal was taken in a raid at a Kirkcaldy community centre.
The money, donated at a Christmas fair at the weekend, was due to be handed over to the town's Cottage Family Centre, which is preparing to buy food for 1,100 children and their families across the Kirkcaldy area.
The cash appeal runs alongside the centre's yearly toy drive which sees generous members of the public hand in goodies for families in need.
Kelly Rodgers from the Cottage said staff were devastated.
"We're trying to raise £30,000 and we're still £7,500 short," she said.
"The money would have gone towards our Christmas appeal to support vulnerable families and would have provided some food as well as paying for utilities like gas and electric.
"This is very deflating for the whole community."
Saturday's fair at Hayfield community centre was organised by Kirkcaldy women Linzie Kerr and Debbie Maxwell, who said they were horrified to hear all the takings were gone.
Raffle prizes, CCTV, laptops and other items were also stolen in the Sunday raid.
"Lots of local businesses and people from the local community came along and raised a fantastic £835," said Linzie.
"Every last penny has gone. I was utterly devastated when I heard but now I am seething with anger. I don't think I've ever been so angry in all my life."
A Gofundme page has been set up online in a bid to recoup the lost money but Linzie fears they may never get it back.
"We're flogging a dead horse because people in the community had already given what they could," she said.
A Facebook post by the Cottage appealing for information has already been shared almost 500 times by shocked members of the public.
https://www.facebook.com/cottagefamily/posts/2790963230929527?__xts__[0]=68.ARBOv3XIkS7AG3-o97RCQ1RRP0c4l53YpgH0gXpoX7D4Yl_UrUth2YsW2JMvda82qI3Fq-Z-h9UNnudYJ2lcxLPewP5v9gUeLodQx6xR-QS_nZyxLEv6IM43sBDfVOqBlhWkEvtaiX9qaLwpuC2atPL127w2a_FhevUwTm8Jlg4UbuePT3OGEGPKF4e06dNH-RNT0oND5_OL5SXmpNrTJmIepIN6KOTk-sgUXqiJXaW7RuzcGqCfB1uqtnXxTWeCj8pKu98H2qe1scUKn98W4l1CZ6fUJd7GH6nHvja87tlPPv2kA-X838PRvaxORNp0eXFs1bDw5rVorG-O1aPYSA&__tn__=-R
The centre has also received the backing of local Labour MP Lesley Laird, who described the robbery as "gutting news".
"A whole community has been impacted and I can't muster the words to described just how despicable this crime is," she said.
Police are investigating the break-in and have urged anyone who can help to get in touch.
A spokesperson said: "The incident happened sometime between 1.30pm on Sunday and 6.30am on Monday.
"Inquiries to establish the full circumstances of this incident, and to ascertain what has been stolen, are ongoing."