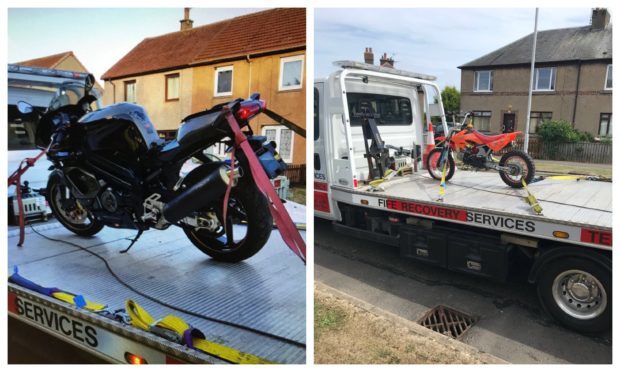 Council tenants could face eviction under a range of get tough tactics to be discussed in the crackdown on illegal bikers in Fife.
Levenmouth's Labour councillors are to meet police this week to discuss imposing firmer strategies to tackle the dangerous misuse of motorbikes and quads.
They will propose working with Fife housing officers to identify tenants whose homes are being used to store bikes used by unlicensed and uninsured riders.
Private landlords would also be urged to deal with "rogue tenants" as part of the approach.
Leven and Kennoway councillor Colin Davidson said those caught could be served orders, with repeat offenders possibly losing their tenancy.
"Landlords will be interviewed and asked to deal with rogue tenants or could have their licence revoked if it could be proven there's a breach of their licence," he said.
Mr Davidson and colleagues David Graham and Ryan Smart hope the approach can be implemented next year.
The move follows a call by Levenmouth inspector Tom Brown for a change in the law to help officers tackle nuisance bikers who have been blighting communities for years.
---
---
He said riders caught on land that is not a public road can only receive three penalty points, meaning police have to catch them four times before they are banned.
Mr Davidson said he and his fellow councillors supported the call, adding that other measures were also being put in place to deter culprits.
"The parks staff will continue to look at ways we can disrupt the movement of the offenders who use regular rat runs by erecting barriers and fences," he said.
"The public need to continue to play their crucial role in helping us by reporting misuse of bikes and quads to the police and letting the council know if they have concerns around people using their houses as a base for the use of stolen or illegals bikes."
He added: "These persistent offenders are blighting our communities and are costing us all a fortune both in money and quality of life.
"This can't go on unchallenged. Our communities should not have to live in fear of these mindless, selfish individuals."
Police have been praised for their efforts in ridding Levemouth's streets of the biker scourge.
Since April, 21 people have been detected in the area and 31 bikes seized.