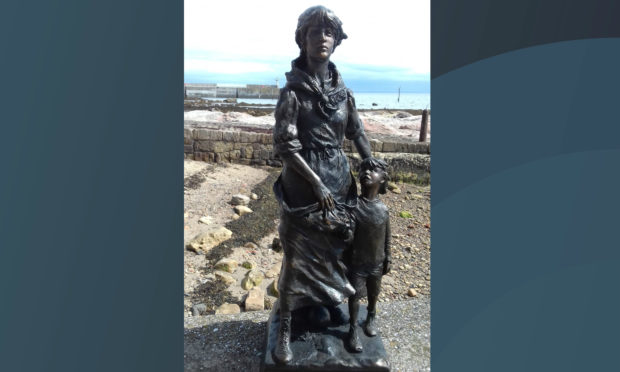 A memorial to the hundreds of East Neuk fishermen lost at sea over the centuries is to be erected at last.
Campaigners have raised money for a sculpture and signed contracts with the artist and foundry to make it.
The poignant statue, depicting a fisherwoman and child looking out to sea, will be installed at Pittenweem harbour next year.
Coastal communities from Crail to Upper Largo have lost around 400 fishermen over the centuries, including several in recent years.
Many people living there today have lost loved ones and friends to what is considered one of the most dangerous livelihoods.
Pittenweem Fishermen's Memorial Association was established to provide a fitting tribute to those who never returned and raised the £75,000 needed for the bronze artwork, which will stand eight-foot-high on a granite block.
Chairman Ronnie Hughes said: "After a successful period of fundraising, we are pleased to announce that we have signed the contracts with sculptor and foundry.
"Our sculptor, Alan Herriot will commence work on the sculpture at the beginning of 2019, and we hope to see it erected around October, on the Mid Shore, Pittenweem.
"As the sculpture will need to be insured and require a degree of maintenance we will be continuing to run some fundraising events from time to time, to top up an endowment fund for this purpose.
"The fact that a fitting memorial dedicated to the men and women who make their living from the sea and to those who lost their lives in so doing, will be erected in the East Neuk, is thanks in no small measure to all who have helped and contributed in any way.
"The response to the project has been astounding and greatly appreciated."
Mr Hughes, a retired fisherman, said he knew 19 men who had lost their lives at sea and that those lost were never forgotten by the community.
A clay maquette was erected earlier this year to show people how the memorial would look.
In times gone by losing a husband at sea would could leave wives without an income and often several children to bring up alone.
Community fundraising included a Christmas craft fair and a team in the Kiltwalk, and the campaign received a £25,000 grant from Fife Environment Trust.