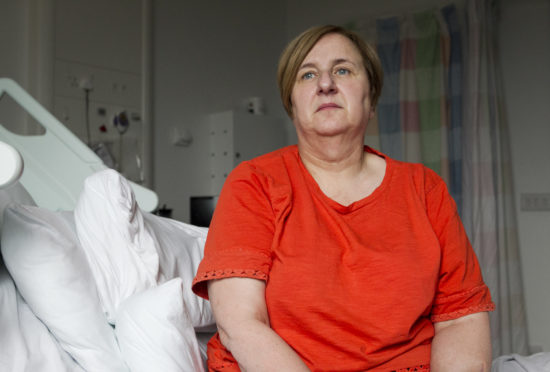 A grandmother whose hands were amputated to save her from a deadly infection can sew again.
Marguerite Henderson can thread a needle and stitch with her prosthetic arm and stump fingers.
While still in hospital the grandmother from Crosshill, Fife, managed to reattach a button to her clothes.
Marguerite, 56, almost died from a sepsis infection caused by a simple paper cut in March.
She pulled through but doctors had no choice but to amputate all four limbs.
Just 10 months on the former Fife Council support worker is able to walk with her prosthetic legs, cook and use her mobile phone.
She told The Sun newspaper: "I managed to sew a button on my cardigan in hospital.
"One of the nurses came in one day and asked what I was doing sitting with a needle.
"When I told her I was threading it she couldn't believe it. I'd love to be a seamstress again."
Fife gran faces losing all of her limbs after picking up sepsis infection from tiny cut
Marguerite is able to dry and straighten her own hair, put on her make-up and send text messages.
She continues to do physio twice a week and is seeing a psychologist but has also started penning a book about her ordeal.
After the procedure to remove her limbs, Marguerite said she was "overcome with grief" as she returned home and faced what she described as an "alien world".
She said: "Putting my arm at the side of my bed, along with my two legs, felt like half my body was lying there.
"I wanted to go back to the hospital."
Marguerite had gone to a pharmacist when a small cut she couldn't remember sustaining became infected.
But just days later she was rushed to hospital and was put on dialysis as her organs began to fail.
She was kept in an induced coma for seven days in the Victoria Hospital, Kirkcaldy, and her family were told she might die.
When she pulled through doctors broke the news that she would lose her arms and legs.