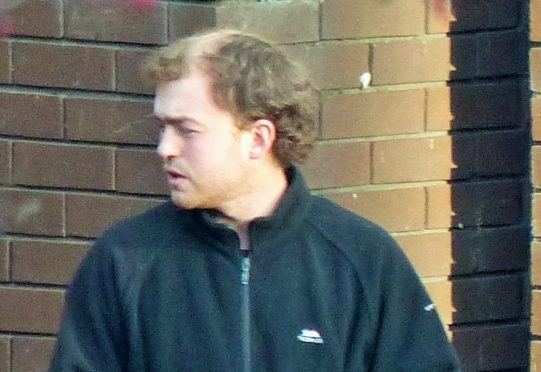 A pervert repeatedly filmed women as they used the toilets in a busy pub and sports centre in Fife, a court has heard.
Darren Murray entered female toilets and used a tablet computer to video women in adjacent cubicles.
He was caught when one pub customer suddenly felt like she was being watched as she sat on the toilet.
The shocked woman looked up to see Murray's head disappearing from where he had been peering down at her from an adjacent cubicle.
He ran from the pub but was later tracked down by police and when they looked at his tablet they saw he had been committing the same offence elsewhere.
Most of the victims are still unaware they were filmed by Murray.
Darren Murray, 25, now of Ronald Street, Old Swan, Liverpool, appeared in the dock at Dunfermline Sheriff Court.
He admitted that on various occasions between March 1 and 18 at Wetherspoons bar, High Street, Dunfermline and at Fife Sports Leisure Trust, Pilmuir Street, Dunfermline, he committed the offence of voyeurism on a named woman and other females whose identities remain unknown.
Without their consent, he observed and recorded them in a private act with the intention of enabling himself or others to view the video.
He repeatedly entered female toilets, concealed himself in a cubicle, looked into adjacent cubicles, observed females using the locked facilities and made recordings of them on a tablet computer.
Depute fiscal Sarah Lumsden said a woman had gone to the bar with her husband on Sunday March 18. She had gone to use the toilet and heard a noise from the cubicle next to her.
"She felt like she was being watched," added the depute.
When the woman looked up she saw a head wearing a red hat disappearing, having been looking into her cubicle.
"She then heard somebody running out of the toilet and she told the manager what had happened," the depute continued.
When the pub's CCTV was checked it showed Murray had gone into the toilets two hours before running out of them.
When traced by police Murray admitted committing the offences and blamed it on him smoking cannabis.
Police seized the tablet and found 22 videos of nine different women using toilets. The Carnegie Sports Centre was identified from tiles on its floor.
Defence solicitor James Moncrieff said his client had been living in the Dunfermline area but had now returned to his native Liverpool.
"He was suffering from poor mental health and was living on his own at the time. He doesn't shy away from his guilt. He accepts what he did was wrong," added the solicitor.
Sheriff Charles MacNair called for reports and Murray will be sentenced on February 18. He was placed on the sex offenders' register with immediate effect.