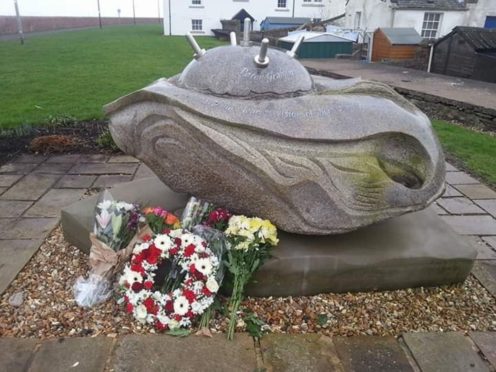 Disrespectful dog owners allowing their pets to foul in a Fife village's memorial garden have been urged to clean up their act before a significant day for the area.
Locals in West Wemyss will gather on Sunday to lay flowers in memory of five brave villagers who died in a tragic attempt to save the lives of family and friends on January 23, 1941.
Organisers of the annual memorial service have expressed their anger at the handful of dog owners who appear to be keeping their fouling to the memorial garden where the weekend's event will be held.
Jake Drummond, who spearheaded a £10,000 fundraising campaign to develop a memorial stone for those who lost their lives, has highlighted the problem and said more drastic action may have to be taken unless it stops.
"Now the Memorial Group are going to be considering two options; one is to fence off the area completely so as to keep dogs out and restrict access to the memorial, or to do away with the garden area and fence off the stone only," he said.
"Both options will cost money, which we'll need to raise….or there's the third option.
"We could put up a sign saying: 'Show a bit of respect and keep your dog and its s**t away from this memorial.'
"That'll really look good when visitors pass through the village, won't it?"
The apparent ignorance of local dog walkers will not dampen the enthusiasm for Sunday's gathering at the memorial near St Adrian's Church, with family members of the victims, friends and supporters who helped create a lasting memorial to bravery, dedication and self sacrifice, expected to attend.
They will honour George Storrar, Colin Smart, James Anderson, David Laing and Peter Graham, who was just 15 at the time of the tragedy.
They were all killed trying to tether a defensive mine which had broken free of its moorings and was said to be drifting towards West Wemyss.
The team set off to Lady's Rock in a bid to protect the village and local boats which used the nearby harbours of Methil and Kirkcaldy.
Exactly what happened remains unknown but it is thought the mine – which had been used as a coastal defence against German U-boats – may have banged against rocks after the men had managed to lasso it.
An enormous blast rocked the village, smashing windows and causing damage to parts of Wemyss Castle. George, David and Peter were all killed instantly.
Colin and James were found barely alive and the pair were taken to Randolph Wemyss Memorial Hospital in Buckhaven for treatment to horrific injuries.
James was pronounced dead at 2.15pm — around three hours after the explosion —and Colin succumbed to his injuries more than a week later on February 3.
The memorial near the shore in West Wemyss was inscribed with the words of Greek philosopher Thucydides: 'The bravest are surely those who have the clearest vision of what is before them, glory and danger alike, and yet notwithstanding, go out to meet it'.
Mr Drummond said: "We think that sums up exactly what these ordinary men did that day, which was an extraordinarily brave thing to do."
A wreath will be laid at 11am on Sunday, as is done every Sunday nearest the anniversary, and flowers and tributes from members of the public are welcome.