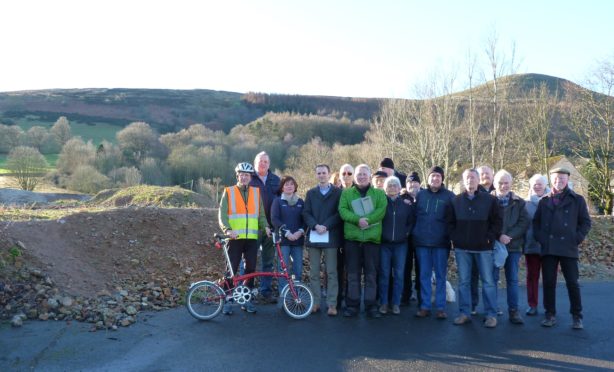 Concerns are growing over a major housing development in a historic Fife village.
Stephen Gethins backed calls for developer Springfield Properties to rethink its plans for the former St John's Works in Falkland.
Around 100 homes could be built on the site where the paper bag factory stood until after its closure in 2011.
The land is just a short walk from Falkland Palace.
There are also concerns about additional traffic on the village's narrow streets and pressure on the primary school and other local services.
Construction would bring the biggest change to the village for more than a century , increasing the population by 15% to 20%, said North East Fife MP Stephen Gethins.
After meeting with residents at the site, Mr Gethins said: "Both the community council and residents' group have informed me of concerns about the density of the housing proposed and the 'shoehorning' in of as many properties as possible on this site.
"Any development in Falkland must be sympathetic and preferably in a style in keeping with the historic village setting.
"Falkland's unique character is very important and I am very supportive of efforts to protect it."
The SNP MP congratulated the community on its charrette last year, where it drew up development proposals sympathetic to the village's medieval character and countryside setting, involving use of green space as a gateway to the Lomonds.
Many residents want to see the cleared site developed in a way that would add to the community, but fear the prospect of a "suburban sprawl".
Falkland Community Council chairman Rod Crawford said: "The future of the St John's Works site is of great importance to the community of Falkland.
"If Springfield Properties takes sufficient time to actively engage with Falkland residents it will help them frame a planning application that is sympathetic to and enhances Falkland's historic build and landscape and is acceptable to both Falkland residents and the Community Council."
A Springfield Properties spokesperson said it always took community suggestions into consideration.
She said: "We held a public consultation in Falkland in December 2018 which over 150 people attended, including an elected councillor. People were able to give feedback at the exhibition and afterwards by email.
"This feedback will help shape the design of the development. Once the design is complete, we will submit it to Fife Council as part of a planning application. At that time the public will have another opportunity to give their feedback on the proposals.
"The development will bring job opportunities and high quality, energy efficient housing for private and affordable customers."
The factory behind Back Dyes Terrace and Well Brae was latterly owned by papermaker Smith Anderson.
For almost a century the works was a major employer in the village, previously producing floor cloth and linoleum.