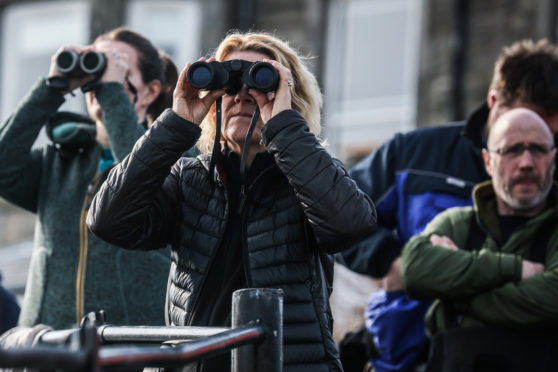 It was a watching and waiting game on Saturday for rescuers who are trying to help a humpback whale seen entangled in buoy ropes in the Forth.
British Divers Marine Life Rescue volunteers have been trying to trace the stricken whale so they can cut it free.
Whale watchers were delighted to see two whales arrive in the Forth near Kinghorn this week.
But then news came through the larger of the two was dragging a buoy behind it.
Divers have been on standby at Kinghorn harbour trying to pinpoint the whale's location.
They were helped in their search by UK Civil Aviation Patrol Scotland pilots while people kept a lookout from the shore.
But the last sighting from the Fife coast was Wednesday.
The mammals were later spotted at Gullane and it is feared the entangled whale might have gone back out to sea.
BDMLR area coordinator Paul Smith said there had been no sightings at all on Saturday.
"The weather has been against us, we could not launch any boats, and could not get the aircraft up so it is a waiting game still.
"We are now doing shore watches but it may well have left the area."
Fishermen had also been made aware and volunteers ready to carry out the delicate rescue operation, were just waiting for any reports of its whereabouts to come in.
"If it appears again we will be watching and then take action as appropriate," he added.