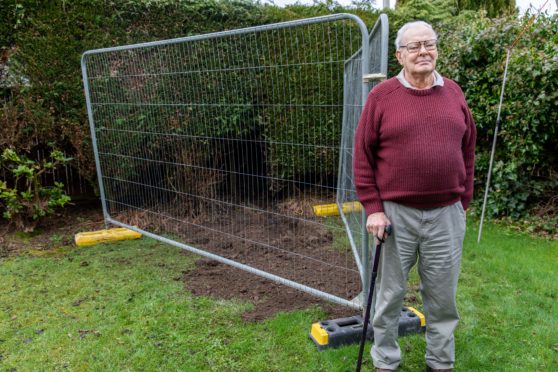 A Fife pensioner was reduced to tears as he waited nearly two weeks for authorities to clean up human waste flooding into his garden.
Widower Alexander Holmes was being a good neighbour when he allowed workmen into his garden to investigate blocked drains in the Glenrothes street where he lives.
That opened the floodgates to disgusting and unhygienic human waste and other debris just yards from his door.
"It's absolutely appalling, there were other people's faeces floating in his back garden," said distraught daughter Suzanne.
The saga started last year when Fife Council asked Mr Holmes for access to his garden to check on problem drains causing bother in other parts of Greenlaw Crescent.
Suzanne said: "Between the council and Scottish Water they've probably been in half a dozen times since then.
"Nearly a fortnight ago something has burst and water has been coming out of the ground."
By then, the foul water was also polluted with raw sewage, toilet paper and wipes.
Suzanne said she has spent the time since going between the two bodies to try to get someone to help her father, who is disabled and not in good health.
"Nobody seems to be taking responsibility. It's really unacceptable – when he opens his curtains he sees a human toilet in his back garden.
"He was in floods of tears the other day. I am absolutely appalled they would leave anyone like that, never mind a 79-year-old. No one should have to live like this."
Fife Council's area housing management lead officer Lesley-Jane Robertson said: "Severely blocked drains that serve different properties on Greenlaw Crescent have caused this very unfortunate situation at Mr Holmes' house.
"The drains were choked with wet wipes that people have been flushing down the toilet instead of throwing in the bin."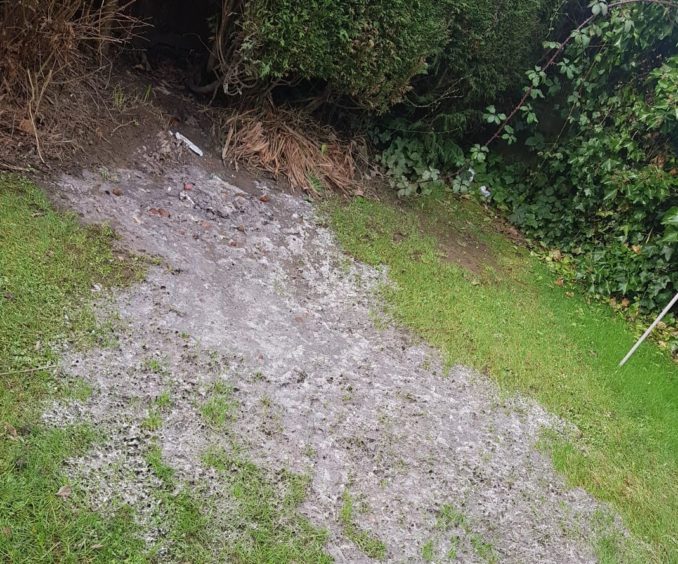 Fife Council has finally carried out a temporary repair and cleaned up but the 79-year-old homeowner has been warned permanent work on the collapsed waste drain could be substantial.
Worried Suzanne now wants assurances the family will see a plan of work, and assurances the garden will be returned to normal.
Meanwhile, Ms Robertson appealed to Fifers to follow advice about what should and should not be flushed down a toilet as "misuse can seriously affect you and your neighbours".
"Residents may also be liable for the cost of any repairs or clean-up operations."
A Scottish Water spokesperson said: "Our sewer response team has attended and investigated the sewer flooding at Greenlaw Crescent.
"The problem is on private property and comes from the building's private drains which are the responsibility of the land owner.
"We appreciate this is unpleasant for the customer and we have been working directly with them and Fife Council to assist in getting the matter resolved."