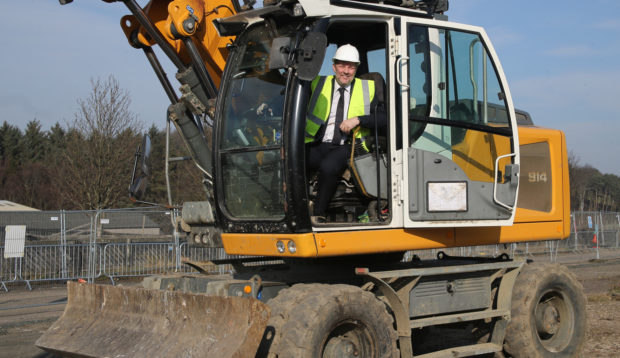 Fife Council has started a new development at Hillend and Donibristle Industrial Estate.
The new units being built signals more regeneration and economic recovery work by the Longannet task force.
The task force was established following the shock closure of the Kincardine power station.
Some 35 jobs will be created or sustained by the Hillend development which is due to be complete in late 2019.
The site has long been popular with businesses, given its proximity to the trunk road network and railway stations.
The six rental units, which together total 8,611 sq ft of new space, will meet demand.
This project, delivered by the council, has been made possible through the work of the Longannet task force.
The development is said to mark a significant milestone in Fife Council's long term commitment to regenerate the estate and help with investment and jobs.
South west Fife was hit heavily when Longannet power station shut its doors in 2016.
This project, alongside other recent initiatives, including the opening of an enterprise hub in Kincardine, will help to ensure that the area thrives.
Economy, tourism, strategic planning and transportation convener, Labour councillor Altany Craik, said: "These new units are targeted at existing and new businesses, whether they are already in Fife or looking to locate within the kingdom.
"We have been working on regeneration of this area, and across south west Fife delivering modern business units to meet the changing needs for the 21st century."
South west Fife area convener, SNP councillor Alice McGarry, added: "Following the support from Longannet task force, I am delighted that this has allowed us to speed up our plans for continued regeneration at Hillend and Donibristle Industrial Estate.
"The new business units will be a welcome addition locally and help to ensure that vacant or under used parts of the estate are productive once more."
This project is the latest of a number of regeneration projects that have taken place since the establishment of the estate regeneration steering group.
The group, made up of businesses within the estate and support from Fife Council, is responsible for shaping and implementing a regeneration strategy to secure the long term future of the site.
The estate now accommodates more than 120 businesses and 2,000 employees.