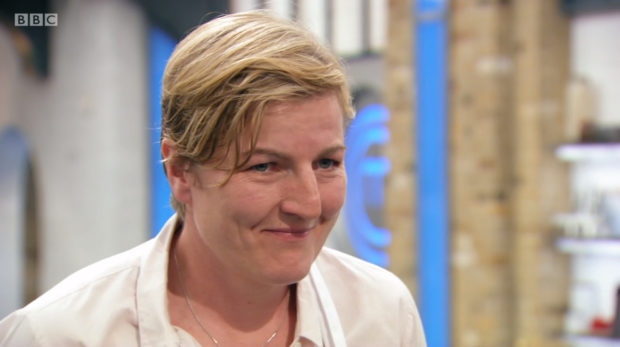 Schoolchildren will be rooting for their teacher on Wednesday night as she continues her battle for one of television's most coveted crowns.
Jilly McCord, who teaches history at Dollar Academy, is a semi-finalist in BBC's MasterChef.
In Wednesday's episode she will compete with the eight other remaining cooks by preparing a three-course dinner for 80 guests at Glyndebourne opera house.
Jilly, 41, a former Scottish women's rugby internationalist, survived Monday's episode despite presenter John Torode saying he was sad about the pear in her spiced poached pear dessert.
She said pupils at the Clackmannanshire school were thrilled to see her go so far on the show.
Boarding children have been gathering in the evening to watch Jilly in the MasterChef kitchen, while day pupils have watched at home with their families.
Jilly joked: "It's far easier to give them a row or get homework back but that will probably only last a couple of weeks.
"No really, they've been brilliant, they are really excited.
"They gave me a round of applause on my first day back in class."
Jilly, who recently moved from Inverkeithing, in Fife, to Cramond, with partner Kimberley Fergus and their two sausage dogs Lucy and Steffi, said she shared her family's passion for food and cooking.
She said: "Cooking has always been my hobby. When I was young I used to stand next to my dad when he was cooking, asking him what he was doing, and you pick it up."
Jilly was encouraged to apply for the show by family and friends and filled in the application form with no expectations.
She said: "Just to get on the show is a big thing, that's an achievement, so to get to the semi-final is incredible.
"The whole experience has been fabulous."
She said it had felt surreal to work with presenters John Torode and Gregg Wallace.
"I've watched Masterchef for years, from the Loyd Grossman days, so when you are standing in front of them you have to pinch yourself. There's nothing better than when they give you a compliment. When John Torode says it's good it must be good," she said.
"On the first day you come in and expect they will give you a tour of the kitchen, make you feel comfortable, but you are very much thrown in at the deep end.
"There's the combination of the unusual circumstances of the camera and the pressure that's on you. It's your one big chance and if you mess it up on day one it's going to be a bit embarrassing."
In tonight's episode on BBC One at 9pm the nine chefs in teams of three will prepare a special dinner for opera singers, theatre directors, costume designers and theatre company members in just four hours.
The contestants will then return to the MasterChef kitchen for a scraps challenge, transforming leftovers including pigs' ears and tails and salmon bones into stunning dishes.