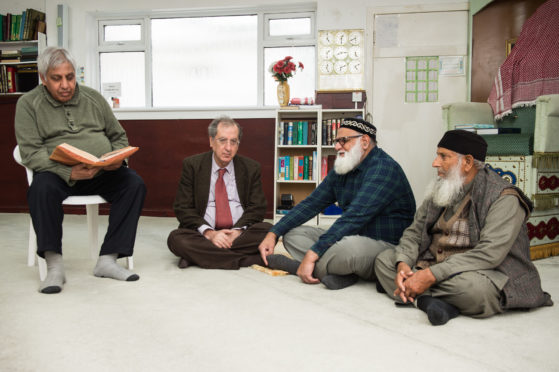 Fears of an Islamophobic backlash in Fife in the wake of the Christchurch terror attacks have been raised after a series of hate crime incidents were reported to police.
Officers are appealing for help from the public after a small number of stickers, said to express anti-Muslim sentiments, were put up in the Kirkgate, High Street and Douglas Street areas of Dunfermline last Sunday.
They were reported to police and are thought to have been removed by sickened members of the public.
The timing of their appearance is particularly pertinent, just hours after 50 people were killed at mosques in New Zealand last week.
The stickers' presence in such prominent locations in the town centre has sparked fears that tensions could escalate, with officers asking anyone in the community with information to come forward.
Sergeant Ross Crawford said: "No one should be made to feel unwelcome or targeted in their own community.
"Dunfermline is a welcoming place and together we will ensure it remains that way."
Local SNP MSP Shirley-Anne Somerville said: "There has been worldwide condemnation of the terrorist attack in Christchurch last week and rightly so.
"But we must also confront those who share far right, racist, Islamophobic views closer to home.
"To have this happen in our town only days after Christchurch is a wake up call to all of us.
"This hateful behaviour has no place in our town."
The shocking news comes as it's emerged a silent rally will take place in Kirkcaldy this weekend.
Dr Bashier Oudeh, a trustee at Kirkcaldy Islamic Centre, said the slaying of 50 innocent people, and maiming of 50 more, when they were praying, was "almost incomprehensible".
"It seems those consumed with hatred and bigotry have lost all sense of humanity to commit such an atrocity," he said.
"Our Muslim community in Fife stand shoulder to shoulder with all our fellow citizens against extremism, hatred and bigotry.
"We denounce the use of religion in such crimes."
He added: "We stand with the people of New Zealand at this time, when their peaceful country was plunged into such suffering on account of unimaginable hatred and intolerance.
"We invite everyone in Fife and beyond to join our peaceful silent vigil to honour and remember the innocent victims of Christchurch."
It will be held from noon to 2pm on Saturday March 23 in front of the Mercat Centre in Kirkcaldy.
Fife Migrants Forum has condemned the Christchurch attack and has urged all faiths to unite in condemnation of such atrocities.
"Together in solidarity with all people who oppose terrorism, bigotry and hatred."
A book of condolence at its Kirkcaldy office will remain open until Friday March 22.
Information on the Dunfermline incidents can be passed on by calling 101, quoting incident number 2808 of March 17 2019, or reported to Crimestoppers on 0800 555111.