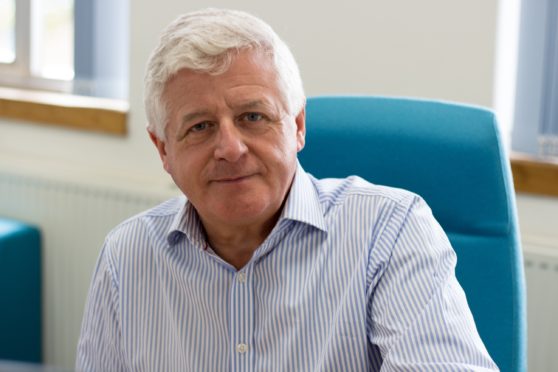 Fife College's principal believes a unique joint learning campus in Dunfermline will benefit the region for generations to come.
The first steps towards improving and expanding high school provision in Dunfermline and west Fife were taken last week when councillors looked at a proposal for a new campus which could include Woodmill and St Columba's RC High Schools and Fife College.
The idea is to be progressed within days as Fife Council seeks to secure an option agreement in relation to land at the Shepherd Offshore site, adjacent to land already acquired by Fife College.
While there is a long way to go before any kind of £90 million 'super campus' is created, Hugh Hall, principal of Fife College, has highlighted his enthusiasm for the ambitious project.
"The college is committed to working closely with the council to deliver the best quality learning experience for the young people of Fife," he said.
"The joint campus development will deliver much needed, modern, fit for purpose learning facilities for our students and the wider community.
"But it is about so much more than buildings.
"Super campus" to replace Dunfermline high schools still on the table
"The joint campus creates the opportunity to re-imagine how we deliver education and skills training in a way that enhances the life chances, the career aspirations and the employability prospects of all."
A proposal is expected to be submitted to the Scottish Government by Fife Council to try and secure funding for the joint learning campus, while formal discussions are expected to begin with communities.
The aim would be to provide more integrated schools and college learning for students aged 15 and over, enabling young people to access courses and wider experiences and opportunities on a single campus.
Fife Council education committee convener Councillor Fay Sinclair said: "This is a really exciting opportunity for the young people of Fife,.
"A shared learning campus opens up so many different routes for our young people to access the careers that they want.
"We will now be approaching our communities to gather their views on the new way forward."
Dunfermline and West Fife SNP MSP, Shirley-Anne Somerville said: "Dunfermline is sorely in need of new schools, so I'm pleased to see the council taking this matter seriously.
"This project will see new state of the art facilities for local pupils, providing the best learning environment for young people to reach their potential.
"It would also mean a much needed boost to local school capacity, considering the rate at which our town's population is growing.
"It's absolutely essential that in taking forward this work, the council engages with the local communities affected by these proposals. The future of Dunfermline's schools needs to take into account the views of local people."