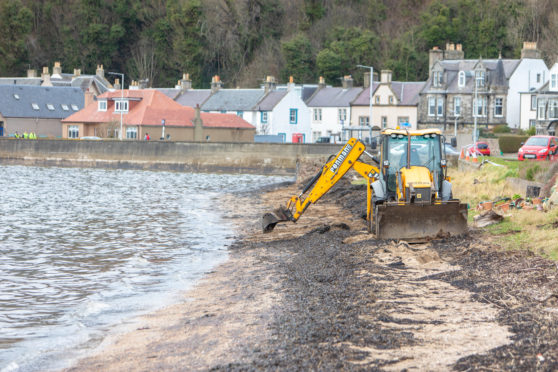 The Scottish Greens have called for further investigation into an oil spill which forced west Fife beaches to close.
Mid Scotland and Fife MSP Mark Ruskell has criticised the Scottish Environment Protection Agency (SEPA) for closing its investigation without the source of the pollution being identified.
The beaches at Limekilns and Charlestown were sealed off to the public for several weeks following the incident.
Around 600 tonnes of contaminated seaweed and sand has been removed from the three beaches affected and disposed of at a specialist facility in a clean up costing an estimated £600,000.
But despite investigations by SEPA, the Marine Coastguard Agency and Forth Ports the source of the slick has not been found.
Since the source, which was initially thought to be land based, remains a mystery, Fife Council will have to foot the clean up bill.
Mr Ruskell said: "This oil spill has caused significant environmental damage and local inconvenience in the villages.
"It's simply not acceptable for SEPA to say they can't figure out where it came from and wipe their hands of responsibility.
"If the oil did not come from the land, the investigation should extend into the river, and SEPA and Fife Council need to be working with Marine Scotland and Forth Ports to look at all boats in the area at the time of the oil spill in February that could have been the source of this pollution.
"We've long established the principle that the polluter should pay for clean-ups in Scotland, but this is meaningless if our agencies are not carrying out full and proper investigations into these incidents.
"The taxpayers in Fife should not be picking up the bill for this."
A SEPA spokesperson said the investigation was extensive.
As well as officers who walked the shoreline to assess the extent of the contamination, a range of SEPA disciplines came together along with partners.
The spokesperson said: "Samples collected by Forth Ports were analysed in our laboratory and our scientists were able to identify a fingerprint that could be used to match to any potential sources.
"SEPA experts in marine modelling were also part of our analysis, providing an indication where the pollution may have originated.
"All this data was used to identify potential sources along the shore, all of which were visited, inspected and ruled out.
"Fife Council and their contractor Briggs Marine also provided information we could use in our assessments."
They said that if further information comes to its attention in the future, SEPA will investigate.
"SEPA's data has been passed to other organisations to assist in any investigations they are carrying out into off-shore sources, which are outside SEPA's regulatory remit," they added.