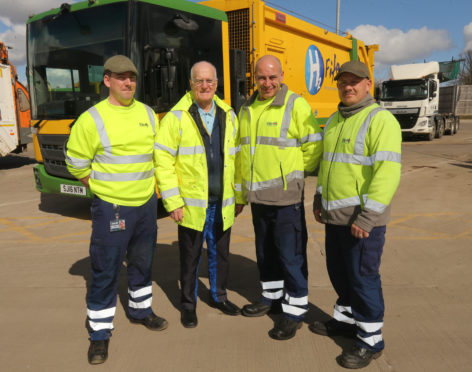 Waste collectors and bin lorry drivers in Fife are regularly being subjected to physical and verbal abuse on their rounds, it has emerged.
The shocking situation has prompted Fife Council to launch a new campaign calling on all motorists to be patient around waste vehicles, as accidents can have a huge impact on people's lives.
While most drivers help crews by driving safely, reports from council waste collectors and drivers have revealed that household waste collection crews are subject to regular serious incidents involving dangerous driving and abuse.
Road rage incidents involving inpatient drivers mounting pavements to get past lorries in urban areas are among a catalogue of instances recorded in the past year, while some have also reported a number of crashes and near misses due to drivers 'crawling' behind bin lorries before suddenly speeding past the vehicles.
Binmen and lorry drivers have also been physically hit and verbally abused, although the fear is that many incidents are still going unreported as crews consider such behaviour to be endured as 'part of the job'.
Ken Gourlay, head of assets, transportation and environment at Fife Council, said the new campaign is being supported by local trade unions including Unison, Unite the Union and GMB.
"Fife Council employees are working hard to do the best possible job," he explained.
"We're encouraging our employees to report incidents to their managers and in severe cases to Police Scotland.
"There have been some incidents where waste collectors have been hit or narrowly missed by reckless, impatient motorists.
"This is unacceptable and waste collectors should be able to undertake their job in a safe environment.
"That's why we're asking people to have patience when driving, and support their local bin crews.
"Our workers are someone's son, daughter, parent, husband, wife or partner. There's simply no excuse for illegally driving a car on the pavement to get around one of our collection vehicles, especially just to save a few seconds on a journey."
Inspector Andy Mather, Fife Road Policing at Police Scotland, added: "The collection of refuse and recycling materials is an important job and Fife Council staff should be afforded courtesy by all road users as these operatives go about their daily business.
"The Highway Code tells us to leave sufficient time for our journey, so please consider that somewhere on your commute you may encounter a bin lorry uplifting refuse and this may increase your journey time.
"If you have to stop your vehicle to give way to oncoming vehicles, remember to give operatives plenty of room as they may be working at the rear of the lorry.
"Also, be aware that some operatives could be crossing the road with wheelie bins, and may not see or hear you approach.
"There is no excuse for squeezing your vehicle past a refuse lorry, mounting the pavement or conducting any other form of anti-social driving behaviour.
"Police Scotland will consider investigating any such allegations reported to them, which could result in a driver being reported for careless driving, which carries a minimum of three points and £100 fine."