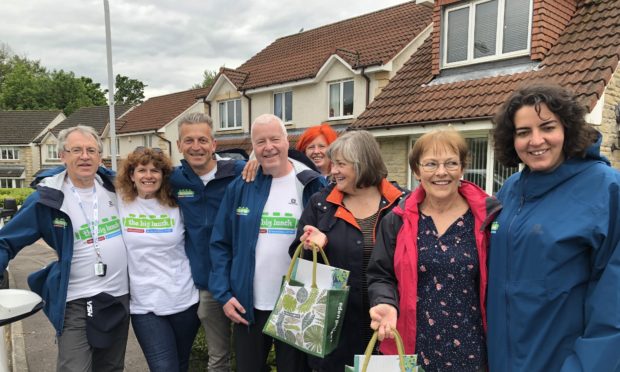 When the first residents moved into the brand new Masterton Hall estate in Dunfermline a decade ago, there was just one thing missing — a sense of community.
In an age when few people know their neighbours, the newcomers decided to take action and the Big Lunch was born.
Locals gathered for a meal and a get-together in the summer of 2009 and had so much fun they have repeated the exercise every year since.
The Masterton Hall Big Lunch is part of a national movement, which originated at the Eden Project and was made possible with National Lottery funding.
Every year, more than six million people take to their streets, gardens and neighbourhoods to have lunch together.
This year's national gathering is planned for June 1-2 but the Masterton Hall crew are holding theirs on June 9 from 2-5pm in the park next to Dovecot Place.
---
>> Keep up to date with the latest news with The Courier newsletter
---
Ahead of the main event, neighbours decided to assemble for a pre-lunch session to mark their 10th anniversary in style.
Brechin's Derek Harper and Edinburgh's Zakia Moulaoui from the Big Lunch team, have been taking a 17-day walking journey across the UK to find out more about neighbourhood initiatives and visited the Dunfermline community as part of their tour.
Pat Armstrong, former chairwoman of the Masterton Hall estate residents association, which has organised the lunches since 2009, said: "There are 101 houses on the estate, but there are no amenities in walking distance, so it was lacking a community environment.
"We thought a Big Lunch would be a good way to bring everyone together – and it has."
Every year has a different theme, everyone brings a dish to share and there are quizzes and music. The largest turnout brought 160 locals together.
Pat said the benefits were felt throughout the year.
"Now everyone waves greets and chats to each other," she said.
"We always look out for one another.
"Some really good friendships have been formed through The Big Lunch and we now organise other get-togethers through the year too."
Earlier this year The Big Lunch released a survey of more than 4,000 people which found almost three quarters – 72% – of the UK population did not feel they know their neighbours well and one in five don't even know their neighbours' names.
Eden Project communities Scotland manager Sandra Brown, said: "People in Scotland are proud of being good neighbours, but we're also aware that recent decades have seen the loss of that community spirit in many ways, and we don't like it.
"It's no wonder, then, that the idea of The Big Lunch as a way of rekindling those connections in the places where we live, work and play has been so warmly embraced in Scotland over the past year.
"The story of the Masterton Hall Big Lunch is such an inspiring example of how a community can really come together."