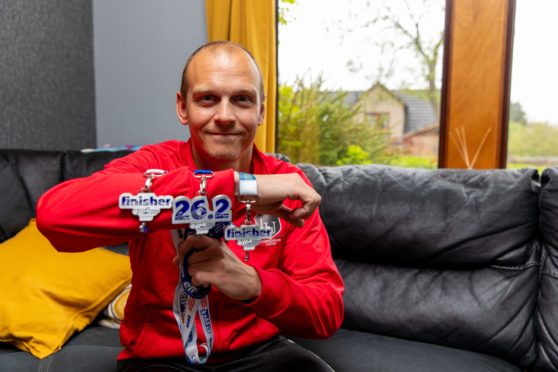 A Fife man hobbled over the finishing line of the Edinburgh Marathon —after completing the last 10 miles with a broken leg.
Mike Lewis-Copeland knew Sunday's race had got off to a strong start, but started to falter at around mile 16 after feeling a pain in his right leg.
It wasn't until the Fife Council worker, from Kelty, went to hospital the morning after the race that he realised he had sustained a slightly more serious injury than he first suspected.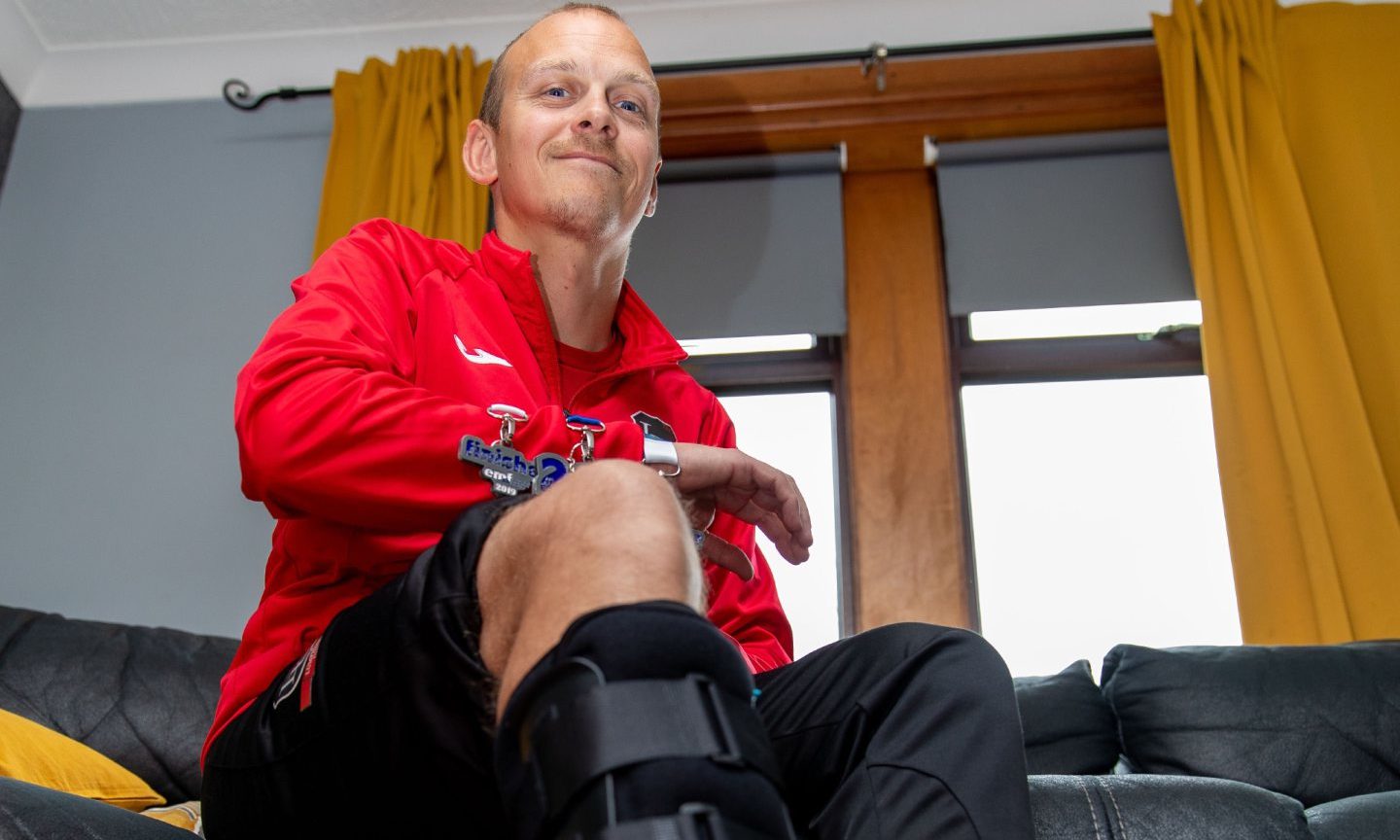 "I thought it was a tendon problem and knew that I'd need to get it checked out, but it wasn't until I got an X-ray that I actually realised it was a fractured fibula," Mr Lewis-Copeland said.
---
>> Keep up to date with the latest news with The Courier newsletter
---
"The race started off really well and I was totally comfortable but I could feel a pain as I hit the 16th mile – which just got progressively worse.
"I thought to myself 'I'll worry about it at the end of the race' which is exactly what I did.
"Ironically, I had to actually walk 35 minutes to the train station – so by the time I got home I was limping.
"It was really painful so I'm not sure whether it was the adrenaline or the whole event that pushed me through it."
Having already competed in seven races so far this year, the 39-year-old has definitely been putting himself through his paces.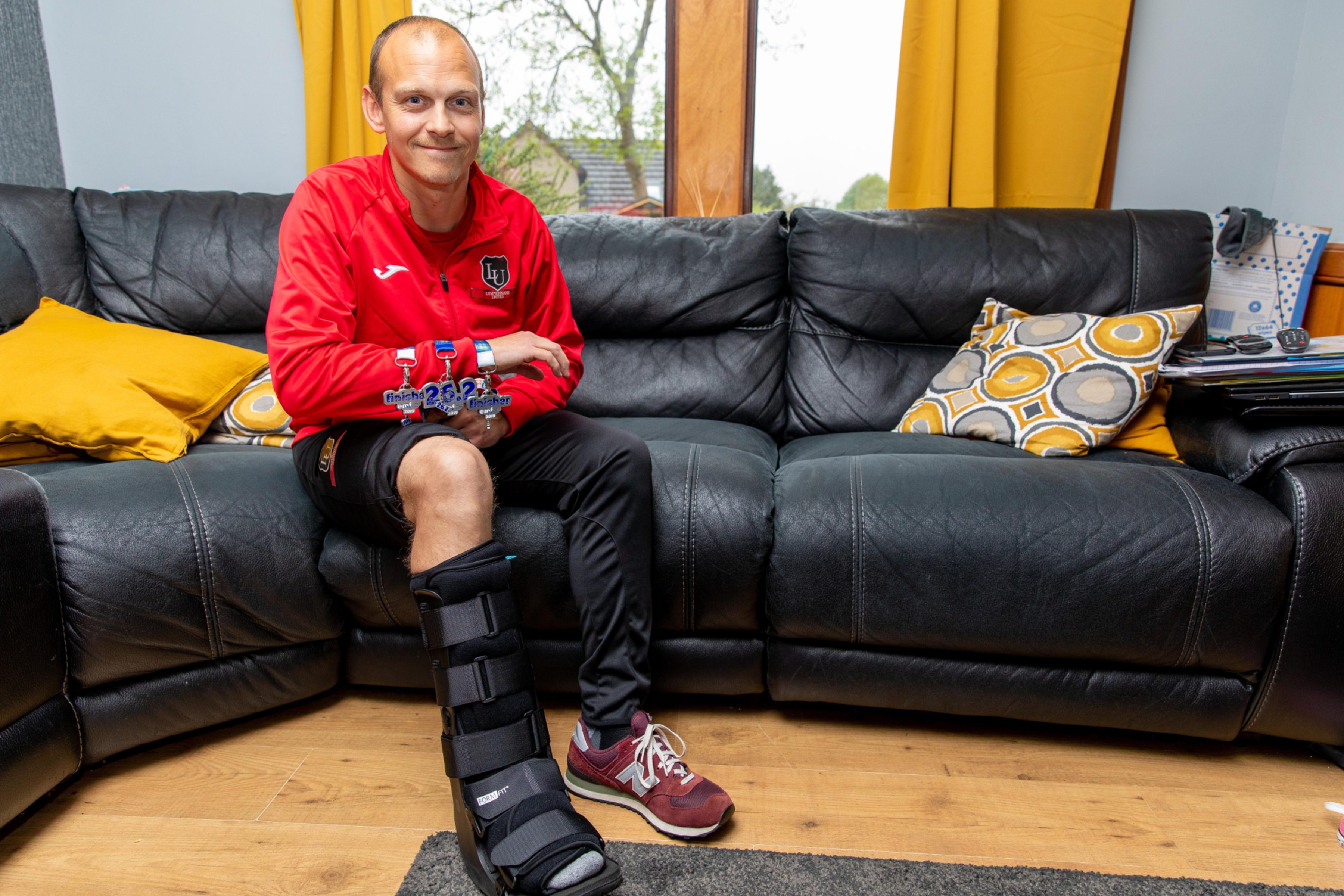 He said: "I have 13 races booked for the year, so I've definitely bitten off more than I could chew. I just don't get enough time to recover between races, plus I'm training five days a week – doing anything from a three-mile run to a 15-mile one.
"I competed in the London Marathon in April and definitely experienced other little niggles and injuries, but that wasn't even the leg that I ended up breaking.
"I did have races booked in June and July but I have had to cancel them.
"My other races are in August – and they're two half marathons. I've not cancelled them yet because I need to wait until I see my orthopaedic surgeon on June 11, where I'll get another X-ray.
"It looks like I'm out of the game for the rest of the season, but I would hope I'd be able to get back into training this year.
"I am absolutely gutted about missing out on the John Lucas Memorial Ultra Marathon, which is a 50-mile route in Strathaven. I'll be going to support my friend – instead of running it."
Rehab will start once his orthopaedic boot has been taken off, which he hopes should take between three and six weeks.
"I'll take it really slowly, but it is going to drive me mad not being able to do any running," he said.