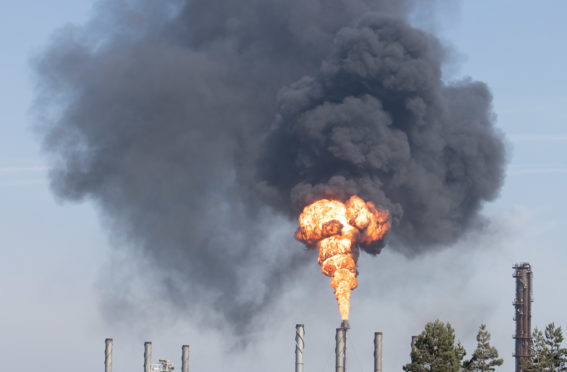 The Scottish Government should ensure an equalities impact assessment is included in any investigations into the Fife Ethylene Plant at Mossmorran, it has been claimed.
Fife's Green MSP Mark Ruskell said it would take into account the experiences of people with autism who live around ExxonMobil's plant.
However, the petrochemical giant said as far as it was aware, such assessments only applied to public sector organisations.
Mid Scotland and Fife MSP Mr Ruskell said a recent public meeting in Lochgelly had highlighted the experiences of families living with autism, which can make people more sensitive to the noise, vibrations and light produced by the plant, especially when flaring.
"The powerful testimonies I heard at the meeting really brought it home what a negative impact this plant is having on families' day to day lives, but the impact can be so much worse when a person is living with autism.
"Increased sensory sensitivity can result in extreme stress and anxiety for both adults and children and this has to be taken into account when assessing the impacts of this plant."
He said such an assessment should form a central part of the environmental, health and social impacts study Fife council and the local community have requested.
Environment Secretary Roseanna Cunningham said she would look into the issue and liaise with NHS Fife, which is to carry out a review of health data for the area.
Stuart Neill, external affairs manager at the Fife ethylene plant said: "We understand the issues that flaring can bring to communities.
"That is why we are taking affirmative action to further minimise both the instances and impact of unplanned events.
"A multi-million pound programme of improvements is being reviewed by SEPA and we are keen to begin implementation as soon as possible.
"We have noted Mr Ruskell's call but, as far as we are aware, equality impact assessments apply only to public sector organisations when they are delivering new, or changing existing, public services.
"Fife Ethylene Plant is strictly regulated and we work with the regulatory authorities to ensure the plant continues to operate safely and efficiently within the guidelines."
Cowdenbeath SNP MSP Annabelle Ewing said she would "continue to poke and prod" to get answers about health implications of unplanned flarings.
"I know that there is work on-going by Sepa to monitor air quality at Mossmorran and that they are currently reviewing assessments made by the operators of best available techniques and that NHS Fife is also gathering information."